INEC COMMISSIONER CHARGES NIGERIANS ON CREDIBLE ELECTIONS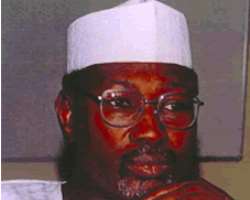 As the nation prepares for next year's general elections, Nigerians, politicians particularly, have been urged to play the game according to the rules so that the country can enjoy credible elections devoid of acrimony.
The Independent National Electoral Commission (INEC) Resident Commissioner (REC) for Benue State, Alhaji Nasir Ayilara who said this in an exclusive interview with Daily Sun noted that credible elections in 2011 would depend on all Nigerians.
While maintaining that the INEC Chairman, Prof. Attahiru Jega has a track record of performance, Ayilara stressed that he was not a magician and so could not give the country the desired result unless everyone, including the media and all politicians were determined to make it happen.
'Prof. Jega does not have any special magic. To have a credible election in 2011 depends on all Nigerians including the press. So, the people have to play the game according to the rules. They should tell Nigerians the real fact of what is happening. And I believe that if the politicians also play the game according to the rule, the sky would be our limit in this country.' He explained further that the cumulative success which the INEC boss would present at the end of the elections would depend on the performance of RECs in various states and all the electoral officers in all the 774 local governments areas in the country.
'Also, the performance of our colleagues in various states and ditto the electoral officers in all the 774 local governments in the country; these are going to be the cumulative success that Prof. Jega will present to Nigerians, because in electoral process, if one local government is bad in Sokoto and the remaining 773 local governments are good, it's still a flaw.' He said by the time different political parties conduct credible and rancour-free primaries, animosity over elections would be reduced and ultimately, Prof. Jega would be happy and proud to give account of his stewardship in the end.