HOW SENATE PRESIDENT'S VISIT EXPOSED CONTRACTORS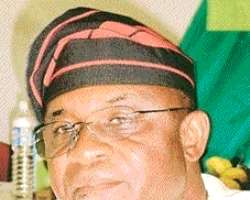 Mark
Senate President David Mark recently toured of his project sites in his senatorial district to assess the quality of work done and the level of completion. The team which was headed by his Chief of Staff, Chief Agbo Oga, had almost all the personal aides of the Senate President including his Special Adviser on Government and Political Affairs, Chief Mike Omeri in attendance.
From Agatu, Apa, Obi, Oju, Okpokwu to Ado, Ogbadibo, Ohimini and Otukpo, the team combed all the hinterlands to be sure that the projects for which contractors collected mobilization fees were actually on ground.
In Ogi Utonkom, the team visited a motorized borehole with taps which has been completed and awaiting commissioning and formal hand-over to the community.
At Igumale where a block of three classrooms with an office and a borehole have been completed, the team discovered that while the borehole was well executed, the classrooms were poorly done and the desks were yet to be supplied.
At Agila in Ado Local Government area where a contractor is supposed to have built a block of three classrooms with an office and a block of VIP toilets, the contractor did not as much as report to site to commence clearing of grasses from the site, let alone commence any work.
The Agadagba people of Ohimini Local Government area were full of thanks and appreciation to the Senate President when the team visited the area. LGEA primary School, Akwunu Agadagba, the only primary school in the area which was established in 1976 has remained in its dilapidated state since then, until recently when the Senate President decided to build a new block of three classrooms with an office, store, a computer room and one block of VIP toilets in the school to give it a face lift.
The consultant engineer. Tosin Omoya, explained that if funds are provided, the work which was then at the roofing stage, would be completed within four weeks. He said that work was actually delayed due to some corrections that were made to the building at the foundation level. At Ipolo Ugboju in Oturkpo Local Government Area, a large solar powered motorized borehole is now on ground to serve the community.
Chief Anebi Onoja who is the leader of the community said: 'Before now, we were drinking from the Oha stream. We have never seen this type of thing in this community before. We only see it when we go to bigger towns like Oturkpo or Makurdi. We are happy that we now can boast of good drinking water in our community.' Madam Paulina Sule could not hide her joy: 'Somebody who gives you water to drink when you are very thirsty is a messiah. That is who David Mark is to us. We are very glad that he has taken the bull by the horns and provided this facility for us in this community. We pledge our loyalty to him.'
Onoja promised to continue to protect the facility and ensure that it is vandalized just as he said, that the community would maintain it. The consultant revealed that the facility costs N12.3 million, adding that some members of the community have also been trained on how to maintain it. Och'Oturkpo, Chief John Eyinmoyen, said the area has never had it so good just as he promised that his people would continue to pray for and support Mark in all his endeavours.