SHIFT IN POLL WILL ASSIT VOTERS MAKE INFORMED CHOICE — MAIRAGO, SENATORIAL ASPIRANT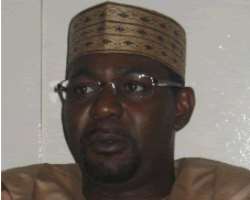 Alhaji Yusuf Hamisu Abubakar, a.k.a Mairago, was former Executive Secretary of the Petroleum Development Trust Fund (PTDF). He recently hosted members of the Correspondents' Chapel to a media parley in Kaduna. Daily Sun was there. Excerpts:
INEC's request for more time
I believe that a shift in the election will be good not only in terms of providing time for INEC to have a very credible election. It will also give Nigerians the opportunity of knowing their candidates. The short period of time that was given for us to conduct our primaries, was not enough for people to make informed judgment in terms of their choices.
The critical thing that we have to recognize is that laws are made for men and not men made for laws. In terms of what you have as good laws, any law that has the support of the unanimity of the subjects, that it is supposed to address means that there is the need for the law to reflect the wishes of the people, can certainly not create any crisis. We have gotten that unanimity from the political parties who are the interested parties in this election and the general public.
The Electoral Act and the constitutional amendment are all products of the cry of the people in terms of the legitimacy of the 2007 elections. These are the products of trying to solve the problem of the 2007 election and we cannot solve that problem by creating another one. It is not all the aspects of the constitutional amendment and the electoral act that will be affected by the shift in date. The only aspect that will be affected is the shift in date of election and this can be solved through consultations with legal experts.
Those specific clauses can now be suspended or another law can be passed. The most important thing is the fact that May 29 is the hand over date. Once that is done, we are going to have a credible election that every Nigerian will truly feel can stand the test of time both locally and internationally. Today, anywhere you go, people tell you that your representatives are not true representatives of the people, due to the flaws in our electoral process and that is the bane of all our problems.
You tried to unseat Makarfi as governor in 2003, now, you want to go to the Senate. Why the change?
Change is normal in every human endevour. Outside that, there are the dynamics and changes in our polity which one has to take into account. Beyond that, I am not fixated in being the governor, but in trying to contribute my quota to the development of our society. I do think that at this point in time, considering the critical nature of our legislative arm of government, this is a place that I could bring to bear a lot of impact considering my professional training and exposure as well as the challenges facing our democracy.
We are all aware that the legislative arm, more than any other arm of government has played a very critical role in the entrenchment and the sustenance of our democracy. There are lots of changes that are taking place and sometimes, we don't recognize them, such as the heroic stand of the National Assembly in 2006 when they defeated the third term agenda. It is so important and forms a watershed in our polity.
This is the first time that a democratically elected National Assembly is amending our constitution. People have started believing that things can happen in a democratic process. It is important for people who have the experience and are well equipped in terms of their intellectual capacity to move into the legislative arm of government. Again, people are complaining of a lot of abuses within the executive arm of government. You must have people who are independent and are committed in the legislative arm of government so that agenda can be properly set out and things are done properly.
Zoning and 2011
When politicians speak, sometimes, it is only politicians who understand. These are all issues of negotiation in terms of power struggle. In 2004 or 2005 when there was the Southern Summit and the leaders of the South met in Enugu, they came out with a similar position that if the presidency did not remain in the South, there would be no Nigeria. The Nigerian nation was called into question then.
But in 2007, we had an election and Nigeria was still there. Protagonists and antagonists of the various positions are right in coming out with what they feel is important in pushing forward their case. Zoning is debatable and I believe that the contest is finally going to be resolved. Whatever happens, PDP will still remain one party and everybody will ultimately rally round who the flag bearer is.
Nigerians always ask legislators what they have done while in office in terms of projects execution which we all know is not the job of the legislators. What will you do to change this orientation?
I have about two or three objectives. One is to enrich the political process. Two, is to educate the general public as to what democracy entails and what the role of the leader is supposed to be in the process. The third is the objective of winning election to achieve and deliver on my objective. I have written to our Hausa listeners on radio. The contest of the letter is what democracy is all about, what the roles of the different actors are, what should be the expectations of the public. I do a lot of enlightenment and advocacy. If you go to my website, I have brought up a lot of issues. I currently engaged in sponsoring enlightenment programmes.
It is not far off when people demand from the representatives what they have done for their constituency. Nobody is saying you should build a hospital or construct a road. But it is expected that as a legislator, there is a very important primary function that every legislator is supposed to participate in and that is the appropriation. That is why the whole concept of politics is negotiation and depending on the level of influence that you have, you could attract a lot of developmental efforts and infrastructure to your constituency.
Does it make sense that you are in the National Assembly and you have a road that has been lying fallow for 11 years and it has not been completed? You are there to represent your constituency and secondly to work for the good governance of the whole federation. When you are looking at the appropriation bill, you have to know the projects coming to your constituency and then engage all departments of government.
My primary vision is to make sure that we deliver good governance through strengthening institutions that deliver. For example in Nigeria, we have so many parastatals, but are they doing what they are supposed to do? Are our representatives engaging them? There are things that you are supposed to do as a legislator and understand the institutions of government and then, you could attract what is supposed to be yours.
During your declaration for the senatorial seat, you talked about having true federalism. Can you throw more light on this?
Everybody is talking about the last 10 years in which we have experienced a lot of inflow in terms of income into the Nigerian treasury. But in terms of the performance of the Nigerian economy, in terms of the dividends of democracy, in terms of the development of our people and human capital development, you find that it is not at par. When you look at the capacity of the different tiers of government in terms of what is coming in, you find that things are skewed in favour of the Federal Government who do not have the capacity to do those things.
It does not make sense to me that you take 46 percent of all the revenue and give it to the Federal Government and very few people have direct access to the services that the Federal Government is supposed to render.
We have the issue of policing which we have been running away from and today, the negative consequences of our decision is facing us. We have seen a lot of studies where Nigeria has been classified as a fragile state. Some people even said that Nigeria is a failed state.
One of the major indices that is being used is our inability to provide security and this has a lot of multiplier effects. Does it make sense that we should have a federal police that is incapable of dealing with the problem that is confronting us? We have to review some of these things.
The local government is the closest tier to the people. How much are they getting? We have to strengthen those layers of government. We are complaining of things that are happening in the states. Are we giving them enough resources for them to truly deliver? What is the business of the Federal Government in importing fertilizers and distributing it to the farmers? We have to really go back to true federalism as the society is changing and developing. We must restructure to ensure that all the various layers of government can deliver on what they are supposed to do while the Federal Government should concentrate on defence, foreign relations and dealing with our resources as it affect international contracts.
You are from the North, a region that does not have oil and over the years, there has been agitation for resource control. Don't you think that you call for true federalism will be misconstrued to mean that you are fighting for resource control?
What I have said is very clear and is not ambiguous and should be taken as it is. I don't think that people should put words into my mouth or interpret meaning into what I have not said.
How sure are you of getting the PDP ticket for the election considering the array of aspirants contesting against you?
That is the beauty of democracy. Talk on what you intend to do and then you go to the people and seek their mandate. The people should be given the space and opportunity to make the right choice. What has been happening is that there has been no democratic space for people to come and contest. Let it be a contest based on idea and sell whatever programme you have. I believe that based on my record and experience and what I think I can deliver, I stand the best chance.