Again No Bomb Scare In NNPC Towers - Oniwon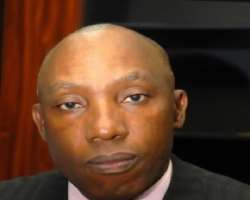 PHOTO: GMD NNPC, MR AUSTEN ONIWON.

ABUJA, Oct 06, (THEWILL) - The Group Managing Director of the Nigerian National Petroleum Corporation, NNPC, Mr. Austen Oniwon has reiterated that there was no bomb scare whatsoever at the NNPC Towers as was speculated yesterday.
Mr. Oniwon made this clarification when the Netherlands Ambassador to Nigeria, Mr. Bert J. Ronhaar paid him a courtesy visit at the NNPC Towers in Abuja on Tuesday.
"I can confirm to you that there was no truth in the rumour that went round town that there was a bomb scare at the towers, rather the security department was carrying out routine security checks in the light of the bomb that exploded in Abuja on Independence Day. The security checks were being carried out in all NNPC installations across the country to forestall any eventuality in line with industry standard," Mr. Oniwon explained.
According to him, management of the corporation directed the security department to carry out a security drill which is aimed at heightening security consciousness among the staff and all visitors to NNPC installations.
"There is no cause for alarm. The drill is a regular exercise that the corporation carries out from time to time to assure our staff and all our visitors that we are on top of our security situation and to heighten our security alertness. The NNPC Towers is well secured and there is no threat of bomb scare anywhere," Oniwon added.
On the Petroleum Industry Bill (PIB) currently before the National Assembly, the NNPC GMD maintained that there was nothing in the bill that was inimical to the interest of the International Oil Companies (IOC) doing business in Nigeria, noting that there is no way the NNPC would support a bill that is not in the interest of the IOCs with its 60% stake in all their investments in Nigeria.
According to Oniwon, the bill basically seeks to reduce the burden on small oil producers and increase government stake in the hydrocarbon resources which will promote efficiency in the Oil and Gas sector.
The NNPC helmsman restated the readiness of the Corporation to negotiate terms with all parties in order to guarantee fairness to investors in the Petroleum sector.
In his response, the Netherlands Ambassador to Nigeria, Mr. Bert J. Ronhaar expressed optimism that the law is in the joint interest of all investors in the country, saying that since the IOCs share the benefits of the oil industry, investors should be ready to share responsibilities in the global energy market.
Mr. Ronhaar said he was ready to act as an intermediary between Dutch companies and other interested parties in order to build investment bridges between Nigeria and other European Countries.