Militants crack, disown Henry Okah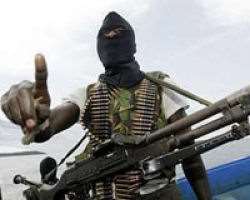 THE October 1, bomb blast at Abuja, has cracked the insurgent community in the Niger Delta, Nigeria's main oil and gas region, with some unrepentant rebel groups loyal to Alhaji Mujahid Dokubo-Asari, coming down heavily on Henry Okah, a factional leader of the Movement for the Emancipation of the Niger Delta (MEND)
MEND came into being in 2006 to press for the release of Dokubo-Asari, who was arrested and detained in 2005 for alleged treasonable offences.
The Joint Revolutionary Council (JRC) an insurgent network which comprises of alliance units of the Movement for MEND, The Reformed Niger Delta People's Volunteer Force and the Martyrs Brigade, is currently hitting hard on Henry Okah.
In an on-line statement to our correspondent on Wednesday, Spokesperson of the JRC, Cynthia Whyte, said they have parted ways with the factional MEND leader.
''We wish to dissociate ourselves from the actions of Henry Okah who until recently was the lead arms supplier to a faction of the Movement for the Emancipation of the Niger Delta.
''His faction of MEND was led by General Boyloaf (Victor Ebikabowei) who has since disbanded his unit and has joined forces with the renewed efforts in bringing peace, stability and development to the Niger Delta''.
Continuing, they said, ''Henry Okah is a monster that was created by frontline Ijaw leader Alhaji Mujahid Dokubo-Asari. During his incarceration in 2005-2007, Henry Okah was mandated and paid to service fighting units loyal to Mujahid Dokubo-Asari.
 
''He exploited Dokubo-Asari's absence, cunningly hijacked the email address used by MEND to communicate with the world, sold arms to armed robbers and confiscated hundreds of millions of naira meant for supply of arms to combat groups in the Niger Delta.
''Since his release from prison by former President Yar'Adua and realizing that he had lost most of his leverage, Henry Okah has sought to work with former armed robbery gangs that he had supplied arms to in the past. These armed robbery groups were responsible for bank robberies and the theft of monies from oil companies in Port Harcourt and its environs.
''Henry Okah is not MEND and MEND is not Henry Okah. We condemn him in all fullness and await further directives on appropriate actions that will be taken on this hardened criminal who successfully infiltrated our ranks to perpetrate clandestinely heinous crimes. His end has come''.

 


Readers' Comments