Joy Bewaji's Celeb Diary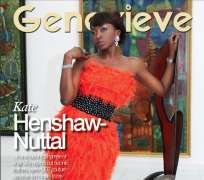 We love our celebrities, don't we? Toffee-nosed and all; problem is I am way too wary to walk up and ask for an autograph even from someone I am dying to see how ugly the hand-writing could be! Heehee! At close range, however, they look a little different; nicer, maybe. I've met a couple of them, and here are my thoughts…
Rita Dominic has the clearest, sweetest, plush tomato complexion. She had a red Chloe bag with gold details when we met. Actually, we took a trip together to Delta state. Rita is funny and conversational. There was always something to talk about. She always lets her hair down, figuratively. Always ready to have fun. She likes to dance; likes a good meal. She sweats the small stuff only when it seems the small stuff is getting out of hand. The industry excites her, and at the same time gets her really upset. She's got a thing for heels; I think that's something the whole world is aware of.
Kate Henshaw is the girl-next-door. She laughs loud and talks fast. She's unpretentious and straight-thinking. You get the impression she is unaware of her status. You know, like she could walk into a 'buka' and eat a good meal of amala without blinking an eye. I had interviewed her for Genevieve magazine cover. She wore dresses from Frank Oshodi and was a natural in front of the camera. Her smile looks like it comes right inside the depths of her belly.
It was hard not to revere Funmi Iyanda during my time on her show; she is so brainy, quick-witted with an incredible sense of style. Along with Sola Salako, Ijeoma Ogwuegbu, and Iretiola Doyle, I had anchored her show, New Dawn with Funmi, for close to a year. We'd had folks like Dbanj, still fresh on the scene with his Tongolo song then. Funmi loved him; loved the 'koko' anthem. Dbanj had his sunglasses on and tried hard to sell the 'koko' thingy to the rest of us.
Timi Dakolo walked into Genevieve magazine office with a chick I thought was his girlfriend but was playing bodyguard, I later learnt she was his PA. He came with the little car from Idols and looked nothing like a celebrity at the time. He was still unsure, very fragile yet very hopeful. The interview was short and stirring. It was for Mothers' Day, and he shared his life story about a mother he hardly knew…
I thought Ebuka Obi-Uchendu was way too tall for his own good (maybe my shoes were too flat). We had lunch at La Saison, and he seemed like a really nice chap. He was talking about starting a radio programme on relationships…we talked about Francesca (it was still something to gist about then)…talked about his ThisDay column…and the future…and yes, I tipped in on his metro-sexuality which has given him a niche right on the red-carpet. He sent a text later in the day that he would reciprocate lunch…he still owes me that lunch.
My stint at Spice magazine brought me in contact with Denrele Edun – two words: crazy and sweet! Denrele has a heart that can accommodate a whole city. He made my stay worth the while. I never got the chance to say thank you! Denrele would bring every single celeb who strolled into the building to say hi to me. MI walked into my office one day and touched his knee, in a sign of respect. Cool, right? The hottest rapper in town still got some manners. I smiled and waved a 'good afternoon' at him, all the while wishing I could just grab his head and plant a kiss right on his lips and get him to sign an autograph on my jeans! Lol!
I met African China on facebook. He posted a 'hi' in the chat box. I responded, and we started regular chatting. He'd send me links to his new single and clips of his shows in blah-blah city (can't remember where now). He asked for my number and I sent it, gave me a call, and half of the time I couldn't understand what he was saying – that oyinbo accent is another story altogether.
A colleague and I had gone to Olisa Adibua's home to trade ideas on an event Genevieve magazine was trying to hold at the time. We wanted some funky idea from the funky master himself. The place was gothic, dark, and almost like a museum. My colleague thought he was cute, I thought he was way too conceited for anyone who wasn't Kanye West! At the end of the talk, I think he muttered something like, 'you think I earn a living playing MC?' Tragic!
I don't think I've met anyone as silly (in a fun way) as IK Osakioduwa (formerly WildChild). We had lunch at La Saison. A chick walks in. He looks at her way too long. Turns to me and asks, 'isn't she too hot for her own good?'He gets up, walks up to her and demands a picture together with her on his phone. He gets her name and adds her on facebook. Spends another ten minutes cracking her up. Heads back to our table, and resumes eating his now-cold meal. And no, he wasn't married then. Lol!
Teju Babyface was moving into his new home in Ikoyi, planning big on his wedding (wait a minute, is he married now?) and sundry issues when I met him at the six-bedroom apartment. He was shocked I had a branded Genevieve car, and left his mouth wide-opened. 'Ah, you have a car ke? Are you not a journalist?' He wasn't trying to be offensive, it was genuine shock; so I said, 'there are journalists, and then there is A journalist.' We both laughed. I thought his power bike was really cool, and the house being renovated was looking so good. But I said nothing; these celebs have buckets full of praises anyway. Yawn!
So there you have it! I'll gather some more in the weeks to come…oh yes! I met Djinee once, and he said I was cute. Heehee!