Toxic Assets In Ten Troubled Banks Hit N3.3Trillion - AMCON Chair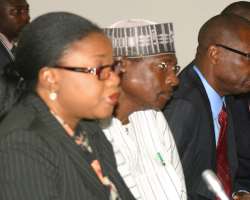 PHOTO: L-R: AMCON BOARD NOMINEES; EXECUTIVE DIRECTOR, DOSUNMU MOFOLUKE BENEDICTA; CHAIRMAN, MR ALIYU KOA BELGORE; AND MANAGING DIRECTOR, MUSTAPHA CHIKE-OBI AT THEIR SCREENING AT THE SENATE TODAY, OCTOBER 05, 2010.

ABUJA, Oct 05, (THEWILL) - Chairman-designate of Assets Management Corporation of Nigeria (AMCON) Aliyu Kola Belgore, today told Senators that toxic assets held in ten (10) troubled banks had risen to a whopping N3.3trillion. He nonetheless vowed that he would resist pressures from any quarter and would not compromise integrity and corporate governance in the discharge of his duty.
Belgore spoke during his screening by the Senate Committee on Banking, Insurance and other Financial Institutions in Abuja.
Other members of the AMCON board screened by the Committee were; Mustafa Chike Obi (Managing Director); Hewet Adegboyega Benson, Abbas Muhammed Jega and Dosunmu Mofoluke Benedicta (Executive Directors).
Belgore also harped on the need for the Central Bank of Nigeria (CBN) and Nigeria Deposit Insurance Commission (NDIC) to carry out intensive oversight on the operations of the 24 banks.
"AMCON is a corporation that will provide succor and relief to banks. A lot of the banks particularly 10 out of the 24 banks have non-performing loans to the tune of N3 trillion; this is quite massive as the huge amount has suffocated the banks. Ninety percent of the banks are not lending and the economy is frustrated unless there is infusion of money. The balance sheets of the banks which reflect negative capital must be cleaned and brought down to zero level," he said.
On the proposed sale of the troubled banks, Belgore noted that most of the investors have withdrawn as a result of poor state of the banks, just as he warned that the any fresh funds injected into the troubled banks 'will be swallowed.'
Before embarking on the task, the chairman-designate insisted that AMCON must evaluate all security risks of the troubled banks with the view to ascertaining their potency (level of return from the bail out).
On his part, Mustapha Chike Obi, AMCON managing director-designate lauded the efforts of CBN and legislature on the establishment of the corporation which he noted as 'a well defined institution with clear mandate.'
"AMCON will enable the banking system to function the way it should. What happened in Nigeria was not unusual and the decision taken was the best way to resolve the crisis," he said.
Obi who reiterated the commitment of the AMCON board to make the corporation a model in the world, called for the cooperation of all Nigerians, legislature and the Executive branch of government in order to achieve the objective for which the corporation was set up.
He maintained that the corporation has the required legal backing to recover bad loan, receive and liquidate as well as seize assets of borrowers who are unable to pay.