MEND Meet GEJ, says we did not do it… Jomo Gbomo doesn`t exist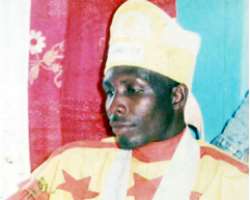 Huhuonline.com can disclose that ex-militant leaders under the auspices of Movement for the Emancipation of the Niger-Delta (MEND), excluding detained Mr. Henry Okah   held a meeting with President Goodluck Jonathan where they denied MEND's involvement in Friday bomb attacks, saying that 'with a password anybody can operate MEND's email account.
 
General Boyloaf Former Leader of MEND in charge of Bayelsa State , General Boy Loaf who fielded questions from State reporters, revealed that 'there is nobody with the identity of Mr. Gbomo Jomo in the MEND organization, even when most MEND press statements were signed by Mr. Gbomo Jomo', saying that 'Gbomo Jomo is a ghost who can be anybody; Gbomo Jomo can be anybody who uses the MEND email account password to send press releases'  
  'Jomo Gbomo does not exist, if the person handling the media sector has a problem and another person takes over so far he has the password of the email   account he can use the name of Jomo Gbomo and cover up as Jomo Gbomo. So there is nothing as Jomo Gbomo, he does not exist', Gen. Boy Loaf said.
  One after the other Ex-militants took their turn to corroborate the position of President Goodluck Jonathan on Friday twin bomb attacks on the parts of the Federal Capital Territory (FCT) that almost marred Nigeria Golden Jubilee celebration that it has nothing to do with the Niger-Delta struggle.
  The Ex-Militants who formed the nucleus of the hierarchy of the once dreaded MEND met with President Jonathan at the Briefing Room of the Aso Chambers, where they also confirmed Jonathan's earlier claim that MEND has no direct link with the bomb attacks.  
  The ex-militants include Alhaji Mujahidin Asari Dokubo, Chief Government Ekpomolo (Tompolo), Ebikabowe Victor (Boyloaf), Chief Ateke Tom, Comrade Fara Dagogo, Shoot At Sight, Eberi Papa and Buster Rhyme.   
 
Mr. Karomema Mabiye
The Leader of delegation and President of Ijaw Youth Council (IYC), Mr Karomema Mabiye,spoke first, he said  they were in Aso Rock 'to solidarise with president of the federal republic of Nigeria and his government and to assure Nigerians that the people of Niger Delta, having come this way, left the creeks and taking amnesty are solidly behind this government', saying that 'there are no controversies about that, there are no pretenses about that we are committed to your government, we are committed to your administration and we shall remain committed to that'.
'We recognize that we live in a political environment, and all sorts of old tendencies will play out and that is we regret the recent bomb blast that happened on the day all of us were beginning to believe in this country and putting our hearts and minds in making sure that a responsible leadership emerge from this political system. When that bomb blast came, it was a rude awakening, particularly when it affected ordinary Nigerians'.
Continuing,the IYC leaders added that 'we want to say it here and to the whole world that the act is condemnable and we unequivocally in totally condemn that act. It is dastardly, it is irresponsible and it is morally reprehensible. We reject such incident and we say that the Niger delta people are no way in support of that kind of attitude. Let it go from here and let it go to the entire world, particularly because we read in the media that it was MEND'.
In his words, 'all the leaders of MEND and all other organizations and we say that MEND was not responsible for that bomb blast. Our struggle is a responsible struggle, our struggle is a mortal struggle, and our struggle is struggle for fairness, justice and equity. And the political space that is opening is a new opportunity to engage and it is only when this political process disappoints us that we can then say our confidence has been betrayed. But we are sure that the president of the Federal Republic of Nigeria has grown and understand the pains of the people of the Niger delta and that alone gives us the confidence and courage to go after the opportunity that he provides for us'.
  He assured 'that the people of the Niger delta and not only the people of the Niger delta because we have engaged Nigerians, we have engaged Nigerians of our kinds in the north, we have engaged Nigerians of our kinds in Igboland, we have engaged Nigerians of our kinds in Yorubaland and in Hausa/Fulaniland and we the people are happy with the dedication, with disposition that the president has continued to lead us forward and that is why the threat of emerging new generation is beginning to lead to politicization of our march towards the new order. We want to assure you that we are with you because we see in this, the hand of the Almighty God in this'.  
  Government Akpemolo a.k.a Tompolo
 
Government Akpemolo alias Tompolo, the founder of MEND said 'MEND had no hand in the blast and maintained that as founder and leader of the militant organisation, he can empatically said that it was the work of the enemies'.
 
'We want to say sorry. I am the leader of MEND by the grace of God and everybody you see here are not part of what happened. I am the owner of MEND,' he declared.  
Asari Dokunbo
Also speaking the leader Niger Delta People Volunteer Force (NDPVF), Alhaji Mujahidin Asari Dokubo said the bomb attack is 'heinous and condemnable, I want to say that we the people of Niger Delta, be you the Ogonis, Ibos, be you Itsekiri, Urhobos, we have condemned this action . We want the World to know that no power in heaven, on earth or below the earth, is strong enough to resist the power of God. It is the power of God that created this world that establish and stabilized it. God has said that you, Goodluck Ebele Jonathan is the President of Nigeria '.
'I cried when I heard it, because I never expected it to happen and let it not be associated with the people of the Niger Delta. We may have different political opinion, but that does not mean that we do not know our root. We are not going to sell our patrimony. We will not do it; we believe that we have all spoken. The President and leader of our organization, the Ijaw Youth Council, IYC, The platform on which our organization stand and all other leaders have all spoken in unity and one accord'.
Dokunbo said, 'we represent the people of Niger Delta, our past leaders who have died in the process of this struggle such as Prof. Ken Saro Wiwa , and others will be turning in their graves that somebody who claims that he is part of us will do that which we have not done; and urged 'the government to investigate properly and fish out those involved and give out the most appropriate punishment. Let there be no leniency, whoever is responsible for taking the lives of these innocent people. The action is condemnable'.
He disclosed that 'we have the rule of engagement in our organization, we do not kill innocent people, we do not kill women, children, nor kill even an unarmed soldier'; stressing that 'we do not destroy properties, we do not pollute fish ponds, or cut down economic tree, we do not destroy houses and communities. Anybody who is genuinely in this struggle knows that these are the laws that guide our struggle. That is the rule of our engagement, it may sound stupid but this is what we stand
for and we will not depart from it'.           
Responding, President Goodluck Ebele Jonathan said, 'I want to plead with you that though like most programs, we might have hitches, I want to assure you that the government is actually committed and by God's grace most of these hitches will be resolved. I want to appreciate you for your support because 1st October is a very special day for Nigeria'.
 
He stated that 'I don't know when last the Federal Government celebrated the 1st October and if I can remember it is as far as 15years back and we think that hitting the 50th mark we need to celebrate. And with heads of government all over the world were present and let us even assume that somebody is aggrieved with the government that was not the day to have expressed it. And of course, when this happened the name of MEND was mentioned and I am happy that you are here because I am from there and I know all the actors and leadership of MEND. I am happy that you have told Nigerians and the rest of the world that it is not MEND that did it'.
Jonathan disclosed that 'this (bombing) has opened the eyes of the government the more to see how we can improve on our security network to see that this kind of thing does not happened again; and I am happy that all of you have pledged with the government and I know you are in the position to help is to unearth some of these issues'.
'I want to thank you for coming to reassure us that you still stand by the spirit of amnesty and work with us, I want to pledge here that we will not disappoint you. We would even work harder to see that amnesty succeed. We will work with you are men and women from the region '