Group Petitions Nwodo Over Bankole's Re-Election Bid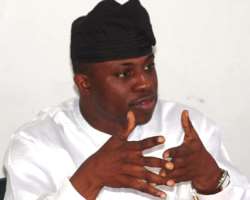 PHOTO: HOUSE OF REPRESENTATIVES SPEAKER DIMEJI BANKOLE.

ABUJA, Oct 03, (THEWILL) - A civil society group, Campaign for Good Governance (CGG) has kicked against the planned return of the Speaker of the House of Representatives, Honourable Dimeji Bankole to the House next year.
Bankole had picked the nomination form to contest for the Abeokuta South Federal seat in the House. But the group in a petition to the National Chairman of the Peoples Democratic Party PDP, Dr Okwesilieze Nwodo and the state chairman of the party in Ogun State has asked the duo to deny Bankole the party's ticket to run in the 2011 general elections.
In the petition signed by Dr. Silas Ude, the group accused Bankole of absolute disregard for the rule of law and fragrant abuse of office. Dr. Ude alleged that the absence of effective representation at the House of Representatives was as a result of his leadership style which ensured that some federal constituencies were alienated from the ongoing democratic process.
"Campaign for Good Governance CGG is a composition of highly placed and learned Nigerians concerned with the advancement of democracy and the rule of law, so it would be cowardice and unpatriotic if we allow people like Bankole to jettison institutions like the National Assembly and the provisions of the law," the group wrote.
It noted that there was no law which empowered Bankole to deny a fellow member representation, given the fact that he was equally elected by the people.
Recently, some legislators were suspended for leading a crusade against the leadership of the House over allegations of corruption.
The group also mentioned the Speaker's disobedience of an order of a Federal High Court in Abuja, which restrained him from swearing in a new member Mr. Emmanuel Obot.
"When leaders who swore to oath of office to protect the laws of the nation are violating such provisions, then such leaders cannot advance the course of democracy and the rule of law".