PRESIDENCY: I STAND WHERE GOD STANDS – OBASANJO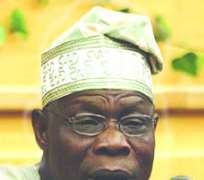 Obj
Former President Olusegun Obasanjo on Saturday refused to openly back the Presidential bid of President Goodluck Jonathan in the 2011 polls, saying he will pitch his tent on God's side.
Obasanjo, believed to be the biggest sponsor of the Jonathan 2011 project, however declined to openly back the former Bayelsa governor.
Obasanjo, who stated this in Lagos on his return from Abuja where he attended the 86th birthday anniversary of former Supreme Court Judge, Justice Chukwudifu Oputa, also said God has been good to Nigeria and that the country has a lot to celebrate seeing how it has remained one unified entity despite various challenges.
'God has been good to Nigeria. God is a Nigerian because despite our many challenges we are still moving on together', he said.
While the brief interview lasted, journalists interacted with the former President thus:
Journalists: On 2011 sir, where will you stand? Are you going to stand with Jonathan, IBB, Atiku or Gusau?
Obasanjo: I stand where God stands.
Journalists: Where does God stand in Nigeria sir?
Obasanjo: Go and ask God (Laughing).
Meanwhile, there was heavy security at the Presidential lounge of the Murtala Muhammed Airport, Lagos following the visit of President Goodluck Jonathan.
Jonathan, who was said to be in Lagos for an official function as part of the Nigeria @ 50 celebration flew in at about 3.45pm aboard the Presidential Boeing Business Jet marked 5N-FGT.
Prior to his arrival, scores of mobile policemen and other plain-clothed security operatives were on ground to ensure nothing untoward occurred.