SUB-STANDARD THINGS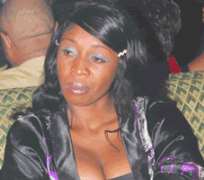 Open-and -close
Since we caught a glimpse of you in the witness box, we've been in pain. We have tried all kinds of painkillers, but this exhibit here is beyond them. Big sis, is it not enough that we are almost seeing your Victoria Secrets and you even went on to bare your cleavage? And then there was the overgrown weeds on your laps.
Please, if you must do this next time, get waxed and toned.
For taking us through
this nightmare you
have been fined
N2.5million
Milked dry
What is the essence of flaunting this clevage when you knew that it has little or no shelf life? With such products on display, don't you think that consumers are at great risk? You would be granted bail in the sum of N1million , but you are to report with your NAFDAC papers and SON certificate at the next hearing.




Caught in the act
Madam, you were nabbed by our fashion police on the 13th of August wearing a revealing dress and information reaching us showed that you got all the men drooling in this outfit. We hereby order Gov. Oshiomhole's tailor and Lagbaja's costumier to head the panel that would henceforth make your outfit. But before then, pay a fine of N1million.


Stretch-marked things
Right after the court went on a recess, my jury couldn't help wondering why you decided to flaunt your stretch-marked 'something' in public. Have you forgotten what section 243 of the 1990 style constitution says on short-fill products (faulted products)? It says, ' short-fill products are not meant for general public consumption, because SON has described them as sub-standard products'. This is punishable under section 104 of the style penal code.
Pay a fine of N2million.


'Young-shall-grow things'
What really beats our imagination is that you have a pretty face and we wonder why you need to dress in this manner. For crying out loud your tits are hysterical and outrageously out of control in this your cleavage baring dress. Girlfriend, produce a bail bond of N1.5million.


Dangerous weapon
What fashion statement are you making with those two moulds out like that? We hereby hand you over to the chief of Army staff, who will deal with you accordingly and in addition to this you are to pay a fine of N1million.