I'M AFRAID FOR NIGERIA – IBRAHIM DASUKI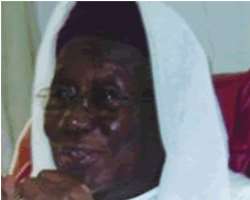 Dasuki
Born on Saturday, 31st December, 1923, deposed Sultan of Sokoto, Alhaji Ibrahim Dasuki, was one of the first recipients of National Award in 1965; he was the Permanent Secretary in the Ministry of Trade and Industry.
In an exclusive interview with Sunday Sun in Kaduna on Nigeria at 50, Alhaji Dasuki, who was conferred with Commander of the Order of Niger (CON), said Nigeria was going from bad to worse and had reached a stage where Nigerians should pray to God for intervention.
He also gave reasons why he never saw eye-to-eye with late Gen. Sani Abacha throughout his tenure He spoke about the presidential system that the country is running and passed a damning verdict. According to him, there cannot be a free, fair and credible election, where an incumbent is running. Excerpts:
Your Eminence, to start with, do you support traditional rulers' clamour for a constitutional role?
Well, I think we are confused. Now, the royal fathers don't get involved in anything unless trouble starts and you start to call for them. So, I call them the yan kwana kwana (fire brigade). When the fire is quenched, nobody thinks about them. There is still this conflict, which I don't know how we are going to handle. There is a tendency for a governor to feel slighted because when he and the emir are coming out, people will push him away in order to greet the emir.
It is not the emir's making, but the governor will think, why should people push him aside and then come to greet the emir whose appointment he approved, forgetting that it is the same governor that will come to the emir for a title after he leaves office. So, I am confused about it because this might lead to the emirs going to court to face litigation charges if their clamour for a constitutional role is accepted.
And maybe they are also doing that to protect themselves from the irresponsible way some of the governors are treating them. It is only now in Nigeria that we create traditional institutions. In the past, they evolve over time. First of all, when they are looking for our votes and the governor thinks the emir is too powerful, he will divide the kingdom into pieces and give to his uncle, the other part to his younger brother and his in-law to become emirs also. So, it is really a confused situation that we have found ourselves in Nigeria. I am not blaming the emirs if they want constitutional role. My only fear is that once you put them in the constitution, you will always find them being challenged in court. But now they have considerable and unlimited power to intervene in any problem.
For example, when I was on the throne, I established a committee without the government or anybody. I just thought of it and collected 34 emirs and chiefs out of the 11 states then and we deliberated and established a committee of seven. Three Christian chiefs, three emirs and myself, making seven. We intervened in the matter between Jukum and Tiv that are not even in my own domain. Now, if you say you have to spell out where the chiefs can operate in the constitution, it will limit his intervention initiatives. I will rather stay and watch and see whatever they do. Whatever they say, I believe the truth will prevail eventually. Once they are right, they do what they are doing in the interest of the nation and the interest of the ordinary man, I am sure truth will prevail, and they will earn their respect and honour naturally.
Up till now, whenever there is any problem, they go and appeal to the emirs to intervene. Look at the issue of Polio. For how many years has the government tried and failed? But when they involved the emirs, in six months they started seeing positive results and recorded achievements greater than they could achieve in 10 years. There are a number of cases where once the emirs are involved, things take shape. For example, during one of the fishing festivals in Argungu, somehow they thought that they heard a sound for them to jump into the water, which they did, the police, the soldiers and everybody did everything to take them out but failed.
The moment they sent for the emir, he ordered them out. Within five minutes, they complied. Some Germans sitting by my side were overwhelmed by the effectiveness and powers of the emir. Then, they said 'why don't you use it for everything?'
So sooner or later, you see that this is the tradition of the people and they respect that tradition. If you don't respect it because you are now in power, they should know that power is transient. And not only that, after you finish your tenure, the next thing is to go to the emirs to look for a chieftaincy title. I see even some governors going to the emirs whose appointments they approved in the first place, asking for title. It is a confused situation with an element of hypocrisy. When the colonial masters came in 1902, a security officer was reported to have given them an idea of the role of the emirs, which made them adopt indirect rule, which was effective. I don't know why we can't improve on that.
In this country today, all government institutions, including armed forces and the police, have gone on strike. Everyone has gone on strike except the traditional institution, in spite of all the humiliation. They stay with their people, no matter what happens. I remember, during Tafawa Balewa's massacre, I went up to the place, when they started attacking the muslims, the chairman, who is the chief security officer of the Local Government, ran away. But the Ajiya, the district head, then came out and sat at the entrance of his palace.
He did not run away. They went round the palace and broke the wall from the back and massacred people who they got there. It was so shameful for the chairman of a local government who is the chief security officer in the local government to run away. So I am only hoping that if at all those in authority can listen, we can work out a system. Even the colonial masters came, they saw the system and knew could not do better than what they met on ground. This is what they called indirect rule.
Do you know that emirs and chiefs are supposed to report to their Local government Chairmen? So, during my time, I said 'now, I have 26 Local Governments, who am I to report to? (He laughs). I mean, it is unthinkable because the chairman himself knew to whom he is coming. He could not into my office. He had to wait until he was ushered in. Then he would bow down to greet me.
When I was the Local Government Permanent Secretary between 1963-65, we tried to modernize the system. We had Emir in-Council and then Emir and Council. We were trying to modify gradually. If left alone, we would have gone far and, in a quiet way, deal with everybody in an institution. But then, you the youths came and took over. You said you are the young ones; this is your time and so on. You are confusing the whole thing.
Your Eminence, I am sure when Nigeria got her independence you were still very energetic and you had your aspirations for this country. Nigeria is now 50. In your own view, how has the journey been so far and have we been able to achieve anything?
(Laughs) If we had achieved anything by now, you would not be here interviewing me. You would have been in the comfort of your office in an air-conditioned house or in an air-conditioned car, with everything at your beck and call. You will go to bed without necessarily closing all doors, because no burglar would come visiting. But, it is most unfortunate.
Incidentally, when we became independent, I was posted to Saudi Arabia and then to Sudan as First Secretary of the Head of Chancery in 14th September 1960 for me to celebrate 1st October. We were hoping that we would reach the highest position because God has endowed us with so much. But unfortunately, after the demise of Sardauna and his colleagues, we started without knowing where we were heading - no commitment. And then we found ourselves in the situation that we are today, where even smaller countries are better off than we are.
If all the resources that we had in this country were utilized, we would have gone far by now. No adequate electricity, as we speak now may be in another 10 minutes or so, the air-conditioner will go off. There is insecurity everywhere in the country. This is the sorry situation we have found ourselves in Nigeria today. The whole situation has completely changed. Leaders have no commitment and no fear of God. There was no sycophancy from the leaders that we had before and we paid people according to their requirement, performance and the contributions they make towards nation building.
Now I understand that the legislators that we have are being paid N10 million and N20 million per month. This is outrageous! I calculated and found out that if an individual will spend N200 per day, he will take more than 10 years before N10m is exhausted. You pay that to one man because he is a lawmaker? I was Permanent Secretary and my minister, as a political boss, was earning N2,600 per month, while I was on N2,800 per month. Why? Because anybody can become a minister, anybody can become a governor, anybody can become a chairman. But mine as a Permanent Secretary was a professional job, that is why I earned more than the minister. Wherever I disagreed with my minister, I told him and cite some examples of how things were supposed to be done.
Unfortunately, it is not like that in the present day Nigeria. I was chairman of Nigeria Northern Marketing Board in 1966-68. In 1967, we bought 1 million tons of groundnuts. We would have gone much higher by now, but I doubt it if we produce up to 100,000 tones after over 50 years. We got the whole thing mixed up and now, they say we will give members of the National Assembly money again for constituency projects. What is the work of the Local Government Council?
What is the work of the State Government and the Federal Government? What has a lawmaker got to do with constituency project? These are the people we saw fighting each other in the Chamber the other day. And they fight because they don't have the background of what to do. They just found themselves there in position of power and therefore they think they can do whatever they like; forgetting that if they go back to history, there were powerful and rich leaders before them. But where are they today? Leaders like Kharun, Pharoah and so on. Where are they now? We have seen so many strong and powerful leaders all over the world who have come and gone.
As a civil servant then, what was the experience like?
I worked under two ministers. I had no business going to their houses to greet them except if they fell ill. Then when soldiers struck in 1966, my minister at that time was Michael Audu Buba who was minister for six years. We gave him loan to buy a car. He didn't finish paying the loan and there was a coup and he had to pay for the car. Believe me, he had no money to pay for that car.
He had to ask for permission to allow him to sell the car and pay the loan before he left for his constituency, in Shandam. There was Sarkin Fulani Jaidamawa from Kano. For six years, he was minister, he did have enough money to move his loads home after retirement. We had to make contributions for him. Those are the people who came with commitment of serving Nigeria with the structure, which they built together with Sardauna. Sardauna's own house in Sokoto was only renovated when I was Sultan in 1994. The house Tafawa Balewa was leaving in when he was Education Officer is still the same house his family is staying today.
Those were committed leaders. But now, we have no committed leaders.
The other day, I was at Sultan Bello mosque, here in Kaduna, and I saw one new house near the mosque, a very big one at that and I was told that it belongs to a Local Government Chairman in Kaduna state. Where did he get the money to build a mansion like that? The thing is, until we change our attitude, I think we will continue from bad to worst. Take for example, none of the industries in Kaduna is functioning, and we are preparing to spend a huge amount of money that could be used to revive these industries to celebrate 50 years of Nigeria 's leadership failure. I used to have my own roller in one of the textiles for my own use before, but the whole industries have collapsed because of corruption and bad leadership.
Apart from what Sardauna did, tell me, what do you see that the present leaders have done? Look at ABU, Kaduna Polytechnic, Ahmadu Bello Stadium, Lugard Hall, New Nigeria Development Company (NNDC) and so on. For 50 years, the colonial masters conquered Sokoto in 1903 and left in 1960, what have we done since they left?
2011 is around the corner and many Nigerians believe very strongly that if we don't get it right this time, we may be doomed forever. What is your impression and advice to Nigerians as we prepare for this very crucial election?
Well, what do you mean by when we get it right? How do we get it right? The question of credible leadership, I think, does not exist Nigeria 's dictionary, because there is no credibility and no shame. I was here in this same room when somebody came and told me he went to defend the budget of his institution at the Senate and they asked him to put for them N1 billion but he should go and bring N100 million. Then six months before election, another told me that he was going to be made the chairman.
He is not the chairman, but he is the vice chairman now, but he knew six months before any election, that he was going to be something. This same man told me he was sent to go and supervise one area somewhere for primary election. He was given the name he was going to announce as the winner. That is the kind of leadership that we have. So, I don't think there is any question of credibility. That is why, during my last press conference, I said we have reached a stage where we should just pray to God for his intervention.
So, all I am saying is, let us pray for God to give us leaders that are sympathetic to our purpose, leaders that can come to serve us not those who come to add to our own problems. There is no discrimination in God's intervention. So whether you are tall or short or rich or powerful, everybody will be involved. Because historically, when there is gross injustice then you must expect something bad to befall the people all over the country, whether in the Local Government, State, the Police or in the court, everywhere. We just pray that God should help us, give us good leaders who have the fear of God, who are committed to the service of God, who are committed to making good the life of the citizens, who are capable of making sure that the amount of funds that are given to them in trust is used for the same purpose, not for personal use. Otherwise, we will continue to be doomed.
What are your expectations for the future of Nigeria?
What I'm hoping for is different from what I am expecting. I hope Nigeria will have a new set-up, a new method of government. This question of presidential system has failed us completely, we the ordinary people, because it has given incentive to corruption. I mean, come to think of it, one Senator is earning more than the President of the world superpower, Obama. Why? So, it is not what I am expecting, but I am praying that in a very short time God will help us to have the correct system of government and then we will have good and committed people who will serve the country.
You were conferred with the Commander of the Order of the Niger (CON) in 1965. How do you assess the selection process for these awards today?
Are you sure it is still a honour? At one time, I wanted to return my own honour, because it is becoming free for all. I mean just because you are a politician or you had a political appointment, that is all, they will confer you with a honour. Anybody can become a governor. You see, these days, when they are given the honours, you see people sleeping because of the long citations they are reading at the ceremony. I am among the first to be honoured in Nigeria, all that they said was 'because of his integrity, service to the nation and sympathetic consideration to others.'
That is all. Honours are no more given to the deserving people and I know some people who begged and lobbied for it and they were given. I never knew about mine until when I was called to see it in the gazette that I was going to be conferred with CON. But now, because you are a governor, or because you are a commanding officer or because you are Major General and so on that is all, you will become GCFR, GCON and so on.
It is never done like that.
I was about returning my own that I held for over 50 years when I heard that some were cancelled recently during one of the past administrations. I know some people who are still lobbying to be given the honour, what for? I am telling you that greatness is not achieved by proclamation. That is why I laugh when I see some people calling themselves Sardauna. Sir Ahmadu Bello brought up the Sardauna title because of his hard work and not the title bringing him up. But today, we are doing things up side down and everybody is Sardaunan Kano, Sardauna Plateau, Sardauna for even traders' association, Sardauna for motor touts and so on.
One of the places you served during your days in public service was Jos. What will you say is the reason for the present day religious and ethnic sentiment that is threatening to divide the country along that line?
Well, dishonest leadership. When you have dishonest leadership they can manipulate anything to be able to achieve what they want. We did not get committed leaders. That is why we are having this ethnic and religious sentiment.
Those who think that they can use religion, whether Muslims or Christians, I don't think they read their scriptures correctly because in Islam, you are not supposed to fight anybody. The scriptures have clearly stated how to interact and treat everybody fairly, irrespective of his religion or ethnic background. If we had been following it, we would not have any problem. I have some non-Muslim neighbours and we interact very well because I am treating them according to the injunctions of Shari'a (the Islamic legal system). I make sure they get their share of whatever I am distributing accordingly. If we read the Holy Qur'an, we will see how we are supposed to look after ourselves and our non-Muslim neighbours and there will be no problem.
Economically again, if it were within my control I would have turned all the banking system into Islamic banking. In Islamic banking, you don't pay interest on any loan you collect and you don't earn any from your deposit. That is why I wish Nigeria operates Islamic banking system, which will also assist in ensuring the giving of Zakkat, which will spread to all common man, irrespective of his or her religion. Many poor people will be empowered. It will also help to expose money being hoarded and kept idle in the bank. In fact, it pays us better. In Saudi Arabia, did you hear them going on strike? They don't, because they are living Islamic way of life. No matter how poor a Saudi citizen is, he can offer his visitor at least a bottle of soft drink because they are running an Islamic system of government.
As an elder statesman, what advice do you have for politicians that are threatening to divide the country along North and South with the zoning controversy?
They have already done so.
Please talk to them, your Eminence.
To say what? They don't listen to me. Honestly, I foresaw this misunderstanding coming and the politicians are taking advantage of it. That is why, at one stage, in 1991, I established what I called 'Peaceful Coexistence Committee,' which was the meeting of emirs and chiefs like I told you earlier. And then we had an Executive Committee of Seven. Three emirs, three Christian chiefs and myself as the chairman, because I foresaw this misunderstanding coming and politicians making use of it to their advantages.