ATTACK'S ACT OF TERRORISM – JONATHAN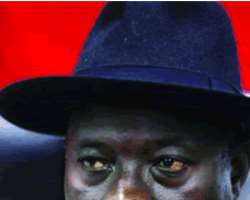 President Goodluck Jonathan
In the wake of the Abuja bomb blast, President Goodluck Jonathan has declared his intention to overhaul the security system in the country even as he insisted that unfortunate incident had nothing to do with the Movement for the Emancipation of the Niger Delta (MEND).
Fielding questions from newsmen after visiting victims at the various hospitals they were taken to, the President said that the bomb blasts were the result of security lapses.
At the National Hospital in Abuja where he spoke to newsmen, Jonathan said the blast has nothing to do with the Niger Delta or MEND stating that the actions were sponsored by people who are flaunting MEND and the Niger Delta to perpetrate their evil acts.
His words: 'My business here is to encourage and empathize with those who are on
admission. Surely, government will take care of the bills and we are also going to reach out to the families of those who have lost their lives and see the little government can assist in cushioning the immediate loss of such people dear to them, some are the bread winners to such families.
We will do that.
'Let me also use this opportunity to reassure Nigerians that what happened on Fiday had nothing, I have to repeat, had nothing to do with the Niger Delta. People just used the name of MEND to camouflage criminality and terrorism. This is just similar to the commercial kidnapping taking place in the Southsouth and Southeast, especially, people kidnapping for money.
'They are not struggling for anybody and they are not representing anybody's interest and the release purported to be from MEND attributing the lack of attention to the Niger Delta, is not tenable because this is the first time that somebody from the Niger Delta has the opportunity to even be the president of this country for about four months, so whatever your grievance is and you have your own here, you should have some hope. Good things do not happen over night.
'For anybody to work with a terrorist organisation and try to use the Niger Delta as a camouflage is totally unacceptable and I have informed the international media that that is a camouflage it had nothing to do with the Niger Delta.' He said the Federal Government knows the identity of the perpetrators and would bring them to book when investigations have been concluded.
Stating that members of MEND could not be more interested in the welfare of the Niger Delta than himself, President Jonathan said: 'I attended my primary school few kilometres from the Oloibri oil well, the first commercial oil well in this country so, nobody and I repeat, nobody can be more Niger Delta than myself and definitely it has nothing to do with the Niger Delta struggle. These are terrorists, we know them, we know their sponsors and we are on their trail and by God's grace some of them will face the law.'