Yayale escapes lynching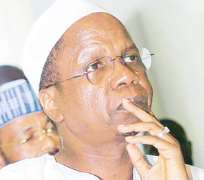 Yayale Ahmed
But for a timely escape, secretary to the government of the federation, mr. Yayale Ahmed would have been lynched today in his office by youths protesting the exclusion of Nigerian youths in the Nigeria @50 celebration.
The youths numbering over 100 stormed the SGF office and held workers hostage for over oner hour demanding to "have some words" with Mr Ahmed.
Sensing trouble, security officers had swiftly informed the SGF who immediately escaped through the back door of his office.
When students later saw the SGF in his car escaping according to sources, the threw rocks at his car and called him names.
Sources told pointblanknews.com that the SGF has been making moves suggesting an attempt to sabotage the Nigeria @50 events. For instance, it is alleged that the SGF have not even contacted those name's on the Nigeria @50 award. Kanu Nwankwo who made the list has not been contacted according to a source who also hinted that the footballer only saw his name in the newspapers as a recipient of the award.
Sources also hinted that the invitation for the grand event excluded friends and associates of President Goodluck Jonathan in a move viewed as a slight on the Presidency.
When pointblanknews.com contacted the office of the SGF, the phone lines were not picked.
 

 


Readers' Comments