Rude Shock as Three More Housemates are shown The Door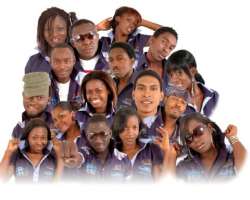 Pictures of NMS 2007 housenates
Never in the three year history of The Next Movie Star has there been an eviction on the night of TGIF (Thank God is Friday) sponsored by Gordon Spark; a day set aside for the housemates to mingle and have fun among themselves while they have an artist that serenades them on the night.
The night started out like every other TGIF night with the housemates dressed to have fun and party all night. The fun and excitement fever was jerked up when the housemates learnt that they would have hip-hop rave Konga perform for them live.
Housemates of The Next Movie Star 2007 had fun hanging out with Konga as they also had the opportunity to meet him in person and ask him some few questions. After the show, Konga gave three lucky housemates which included: Adesewa Ogunleyimi, Emmanuel Mettle and Lydia Forson autographed CD's of his album and in return he was given a brand new Haier Thermocool 14 inch TV set by the housemates of NMS 2007.
Just when the housemates were having the fun of their lives the voice of the house came on and the housemates all of a sudden stood still. Some lamented the fact that the voice came at a time when they where having fun while some others felt something grave was about to happen.
The voice as usual created tension among the housemates while he congratulated some of them for putting up sterling performances as housemates of NMS 2007. Then the voice took the tension to another dimension when he told the housemate that in one of the three autographed CD's given to the housemates, three names are written in one of them and the voice told the three housemates that were given the CD's to check the inner part of the CD jacket for the names.
Emmanuel Mettle seemed to be the housemate that had the CD with three names written in it and he was asked by the voice to step forward and mention the names written in the CD jacket. With his hands shaking, Emmanuel whose name was also on the list mentioned two others that included: Adekunle Johnny and Lillian Lartai.
After Emmanuel had finished reeling out the names, the voice of the house told those whose names had been mentioned that their journey in The Next Movie Star house had come to an unfortunate end. The other housemates were asked to go upstairs and pack the belongings of the evicted three.
The trio of Emmanuel Mettle, Lillian Lartai and Adekunle Johnny have joined Dianna Oribioye who was evicted three days ago as the latest set of evictees.