ELECTION TIME SHIFT: NASS TO EFFECT AMENDMENT IN 2 WEEKS – SENATE SPOKESMAN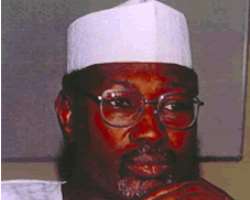 Jega
The process of amendment of the Electoral Act and the second alteration of the 1999 Constitution to allow for an extension of time for the conduct of the 2011 general will take about one month to execute, Spokesman of the Senate, Ayogu Eze, has announced. Already, the bill for the amendment of the 2010 Electoral Act passed through its first reading on the floor of the Senate on Wednesday and is expected to go through its second reading next week.
Eze, who is also Chairman of the Senate Committee on Information and Media, told journalists at a press conference that the process, which had begun, would be concluded by the National Assembly within two weeks and also expected to be concluded by the States Houses of Assembly within one month from now.
He explained that the amended sections of the 1999 Constitution had to go through alteration to allow for a review of the 2010 Electoral Act since the Act derived its potency from the Constitution.
It is going to be very short. Maybe two weeks may be three weeks. We have already started the framework to ensure that everybody is brought on board because this is almost like a national emergency. And we are attacking it like an emergency.'
According to Eze, 'that is why the President was advised to pull in the governors, the Speakers, the leadership of the National Assembly and members of the relevant committees.
There was a dialogue on that last night (Tuesday) and the whole idea is that whatever emerges from here will get the same speedy treatment that we are going to give it at the National Assembly.' He further said there was presently a commitment on the part of all Nigerians, the governors, the speakers of the Houses of Assembly, members of the National Assembly and all stakeholders that the review should be taken as an important national matter that is critical to democracy.
'The process is already beginning and we assure you that it won't last more than a week or two here and we are ready to play out the ball, and we hope that the State Assemblies will do their part and return it. Luckily we do not need to start calling stakeholders anymore because the stakeholders have met even before this decision was arrived at. The stakeholders have also met with Mr. President, it is going to be easy and we believe that this will be done expeditiously,' Senator Eze said.
Commenting on the insinuations by some Nigerians that the delay in the amendment of the 1999 Constitution by the National Assembly led to the electoral crisis in the country, Eze said rather than indulge in self blame, the National Assembly should be commended for the review of the constitution.