Igbo Leaders Summit: South East Senators Cry Out Against Foul Treatment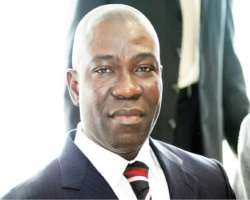 PHOTO: DEPUTY SENATE PRESIDENT, SENATOR IKE EKWEREMADU.

ABUJA, Sept 28, (THEWILL) - The problem in the South East has incurred the anger of South East Senators as they roundly condemned the lock out of South East political leaders that converged in Owerri for a political meeting.
The meeting which was attended by some notable political leaders in Igboland including former Vice President, Dr. Alex Ekwueme, was meant to chart a political cause for the Igbos in the present circumstance.
Rising from an hour-long meeting, the Senators led by the Deputy Senate President, Ike Ekweremadu said the development was very disturbing particularly in a democracy, adding that it is not acceptable to the people.
The lawmakers also unequivocally condemned the kidnapping of school children who were on their way to school and demanded that their captors must release them immediately.
Briefing journalists at the end of the meeting of the South East Senators Forum, Senator Ekweremadu noted as dangerous and disturbing the lock out of Igbo political leaders from a legitimate meeting particularly in a democracy.
"We have our constitution which gives power to people to assemble freely. After all, that is the hallmark of democracy. People must assemble freely and speak freely. A situation whereby people would find it difficult to assemble to articulate their views in a democracy is quite unacceptable whether it is in the South East or any part of this country.
Nonetheless, Senator Ekweremadu assured that the lock out would be investigated in order to find out details of what took place with a view to prevent reoccurrence in the future.
"This is just an interim measure because as we speak now we are not in position of the details and those behind it. This we would seek to find out and ensure that it does not happen next time both in the South East and any part of Nigeria", he said.
The Deputy Senate President said that for democracy to thrive in Nigeria, legislators as custodians of democracy must ensure the defense of democracy saying that democracy without freedom of speech and association is akin to dictatorship which must not be encouraged stressing that democratic ethos must remain very key to all lovers of democracy for the overall interest of the country.
Commenting on the incidence of kidnapping in the South East, Senator Ekweremadu said that the issue is taking a completely new dimension which is unhealthy, thus completely unacceptable.
The South East Senators therefore called on the authorities of government at different levels to ensure that the development is addressed as quickly as possible adding that both security authorities and the government at the Federal and State levels as a matter of urgency act as quickly as possible to arrest the trend.
"We call on those holding these children to quickly release them and the family to remain calm while efforts are being made to have these children released. As we leave here now we are going to make contact with the police authorities to find out what efforts are being made to secure the release of these children.
"You can imagine the trauma the children are going through right now and the trauma their parents would have gone through as well as their families and their entire community. Our hearts go out to these Children, their family and the entire community.
"What is happening in our society is unacceptable and we cannot continue to fold our arms when things degenerate into lawlessness. The government would have to do something as quickly as possible."