NORTH SHOULD NOT OPPOSE JONATHAN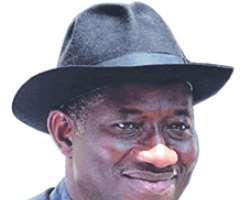 Firstly, it is pertinent to ask why the North wants to continue ruling Nigeria?
I see no other motivation than the oil resources of the Niger Delta. The North is willing to do anything and everything, no matter how, to retain power and continue to control the oil resources of the Niger Delta.
It is outrageous that the north and her leaders are not aware that God has noticed and that everybody is a witness to how leaders from there had performed in the past. They have setback this nation in virtually all areas. Education was neglected just like several aspects of the national life. To make matters worse, there is even nothing to show for their being in power all these while in the northern region. So why insist on being in power and opposing Goodluck Jonathan?
Why not give him a chance?
he has many advantages going for him chief of which is that, he will not be in Aso Rock only thinking about distributing oil blocks to his political associates and friends. He will be working to improve every aspect of this damaged country. He will fight corruption. He will demand performance from government officials, He does not have traditional rulers and people in Bayelsa, who would be advising him to neglect any part of Nigeria. Above all we in Bayelsa also demand that Jonathan performs as the best president throughout his tenure and everybody knows he has been showing that ability since his inauguration. Let the north support him and let all Nigerians support him to develop Nigeria.
Victor Bebebiafiai writes from
Port-Harcourt, Rivers State.