WORLD OF LOCAL NAIL CUTTERS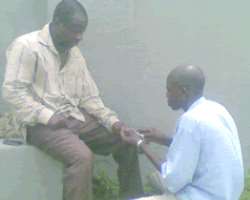 A nail cutter at work
They are mainly men from the northern part of the country. They go about with their tools loaded into bags hanging loosely on their shoulders. The tools include a pair of scissors (dan kira), a brownish stone for sharpening blades, an aluminium cup and a container of liquid detergent. They are traditional nail cutters.
It was a hot afternoon in Lagos. Market Street, located in the heart of the boisterous Ebutte Meta, Lagos was a beehive of activities, with dealers in auto parts struggling to eke out a living. From the beginning of the street to the end, a sea of human heads mills around, with each person either haggling, selling or is into some form of automobile repair works.
Amidst this confusion, a distinct sound stands out. It is the sound of scissors being clicked together by itinerant local pedicurists in a bid to attract the attention of prospective customers.
They are seen everywhere and are patronized by many Lagosians. Patronizing these local pedicurists is a risky venture. Even more dangerous is the business as a source of livelihood, as it has the propensity to send anyone to an early grave through infections. But the uncertainties and harsh realities of surviving in a place like Lagos, where only the fittest has the chance to stay alive, has made these men embrace the trade with gusto.
Their ingenuity with nail trimming is amazing and their craft so deft that hitherto scruffy, claw-like nails come out well groomed.
The process of nail trimming for this people might look very simple but the sharpness of the tools employed sure entails a lot of mastery.
Daily Sun observed that liquid detergent is first applied to the fingernails. A pair of scissors is then used to cut and clean the nails. The tools used for the job don't go through any certified form of sterilization. They are only cleaned with hot water, kerosene or mentholated spirit.
According to a medical report, about eight bacterial and five fungal species were found in tools used by these pedicurists after tests carried out on swab samples collected from such instruments The bacterial isolates included Micrococcus luteus, Micrococcus roseus, Staphylococcus epidermidis, Staphylococcus aureus, Hafnia spp, Shigella spp, Bacillus subtilis and Bacillus spp. Those of the fungal were identified as Aspergillus niger, Aspergillus flavus, Mucor spp, Trichophyton spp and Candida albicans.
The report revealed that the presence of these microorganisms, some of which are pathogenic (able to cause diseases) is an indication that pedicurists could be contributing to the spread of skin and nail infections within the Lagos metropolis.
This claim is however, disputed by the local pedicurists, as they claim that their way of sterilization dates back to the time of their forefathers.
'In our place, this is the only way we shave our hair, cut nails and even carry out circumcisions. There is nobody that has ever been infected with disease,' they said.
Musa Adamu is a farmer from Kastina State. As he moves languidly in search of clientele, he sings aloud in his native tongue to the hearing of people. For five years, he has plied his trade on the snaky streets of Ebutte Meta as a nail cutter. Before the time he is expected to return to Kastina to tend his crops, he hopes to make enough money to employ labourers on his farm as well as take care of his immediate and extended families.
'As I am in Lagos, my wife and children are going to the farm to work. By the time I return home for harvest and the next planting season, I would have made enough money. The business is good,' he said.
Adamu disclosed that there is no gender bias when it comes to attending to customers. He noted that even though he is from the northern part of the country and a practising Muslim, he has to work to meet his responsibilities. 'We cut nails for men, women and children,' he intoned. 'The main thing we are after is our money. Most times, if somebody likes my work, he would give me extra money.'
He disclosed that he also performs local surgical operation on larynx with his tools.
In a day, Adamu says he rakes in an average of N700, apart from the tips he gets occasionally. To trim just the finger nails costs N100.
Another local pedicurist in the area is Kawata Musa. As a handicapped pedicurist, he agrees that he faces quite a challenge doing what he loves. Musa limps and is blind in one eye but that has not deterred his spirit of enterprise. 'This is the only menial job I can do to survive. I don't want to beg,' he told Daily Sun.
Shelter for Adamu is a ramshackled tiny space under the bridge with scruffy looking mattresses taking up half of the space. Like his kinsmen who share the tiny space with him, and who are also into the nail business, he is not ignorant of the fact that he could be infected with HIV/AIDS and other bacteria from his customers. But the prospect of quitting the business looks heinous to him. 'I can never leave the job,' he vowed.
Musa also confessed that he doesn't like what he does for a living. The fear of hunger, and the realization that he must send money home to his mother, who is bedridden from stroke, actually drove him into the trade, he said.
His being stuck in the business arose mainly from his inability to land a job as a gate keeper.
'I knew I was best for the job but when the owner of the house saw me, he refused,' he explained even as he attended to a customer. And in a manner intended to discourage further questioning, Musa broke into a local song. He worked on with a wide grin on his face.