WE WILL FIGHT MAURITIUS TO THE END – OKORO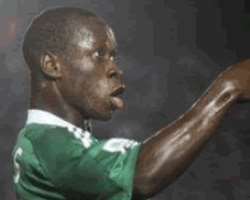 Stanley Okoro
Flying Eagles talisman, Stanley Okoro is urging his teammates to remain focused ahead of their second 2011 Africa Youth Championship qualifier. The Nigerian Under-20 side outclassed Mauritius 2-0 in Port Louis in their first leg, second round clash. Okoro led from the front as he scored a brilliant goal in the exciting contest.
But the Almeria Man is remaining supremely focused on the task at hand.
He said immediately after the game in the Mauritian Capital that they will be making a huge mistake if they approach the second in a relaxed manner as they were caused all manner of problems in the first leg. 'We may have won two-nil, but it was a very difficult game,' he said.
'They Mauritians are technically very good. We only won because we have better individual players who have an almost telepathic understanding having been together for over two years.'
Bright Ejike, who plays for Sharks in the Nigeria Premier League scored Nigeria's other goal and he was in complete agreement with Okoro on how the second leg should be prosecuted.
He said: 'We prepared very well for the first leg. If we do the same for the second leg, then Nigeria will be among the eight sides at the AYC next year.'
This is the first time the Flying Eagles have won away from home in the ongoing African Youth qualifiers.
They had lost their previous game on the road, 1-0 in Conakry to Guinea and Coach of the young Nigerians, John Obuh highlighted the importance of a positive head start.
'Of course, the pressure has now been taken away but like I told you earlier, we will only celebrate after we finish off the business in the second leg,' he said.
The Flying Eagles welcome Mauritius to Abuja for the second leg on October 24 and are the overwhelming favourites to progress to the finals of the competition in Libya between March 18 and April 1.