2011: ACN TASKS JONATHAN ON BAYELSA ELECTIONS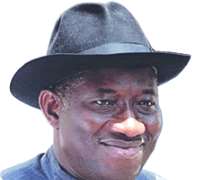 The leadership of the Action Congress of Nigeria (ACN) in Bayelsa State has urged President Goodluck Jonathan to match action with his speech on the 2011 elections which he delivered at the United Nations. The Chairman of the party, Mr. Miriki, who stated this in a statement, said past elections where elections were manipulated in Government Houses should not happen again especially in his home state, Bayelsa.
The party challenged the president to make good his promise of one man, one vote by ensuring credible elections in Bayelsa State.
According to the statement, the Jonathan's address at the United Nations was affirmative and instructive and should therefore be demonstrated in Bayelsa State which was fast becoming a blight on the nation's consciousness.
It pointed out that 14 years after the creation of Bayelsa State, it was still grappling with under-development and abject poverty, adding that the revenue and allocations that had been accruing to the state had not reflected on the lives of the people because of the imposition of unpopular candidates.
'The mismanagement of the state's finances and squandering of its resources is as a result of poor leadership, and which has plunged the state to an unimaginable burden of indebtedness,' the party said.
Meanwhile, an aspirant contesting Sagbama constituency 111, Mr Timiebi, had appealed to Bayelsans to eschew violence in the build up to the 2011 elections.
Binafeigha, who was an aide to the Commissioner of Works in the state, said Bayelsans need credible and visionary representatives in the state House of Assembly to help Governor Timipre Sylva achieve his vision for the state.
While commending the Sylva's administration for the laudable road projects, Binafeigha said in 2011, representatives of the people in the House of Assembly would push for more development in the rural areas to make the people feel the impact of the Sylva's administration.
He urged all aspirants to pursue politics of ideas as Bayelsans were in dire need of quality representations in the next dispensation.
Binafeigha explained that Sagbama people had embraced the one man, one vote campaign and the people of the constituency would ensure that a credible candidate emerged to represent the people.