First Lady Patience Jonathan visits Stone Barns Center with Mrs Obama; advocates for sustainable food system in Nigeria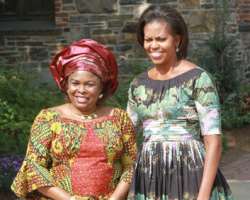 Patience Jonathan with Mrs. Obama


Patience Jonathan with Mrs. Obama
The First Lady, Dame Patience Gooodluck Jonathan joined other spouses of Heads of State and Government at the United Nations General assembly to pay an historic visit to Stone Barns Center, a nonprofit farm and education center in Pocantico Hills, New York.
The visit was at the instance of the American First Lady, Michele Obama to intimate the visiting First Ladies about America's new approach to food production.
Stone Barns center teaches children, farmers, chefs and thousands of annual visitors about using diversified community farms to grow  foods that is better for people, better for the planet and more nutritious and savoury.
Mrs. Obama led her guests, including Nigeria's First Lady Dame Patience Jonathan on a tour of the farm where 3 rd grade students from JFK Magnet School and Pocantico Hills Central School participated in a farm-based education programmes.
The students engaged in a range of activities which included harvesting vegetables and collecting eggs. They later prepared farm-fresh lunch for the First Ladies.
First Lady, Dame Patience Jonathan commended the management of the center for the effort to create a healthy and sustainable food system.
She noted that the activities at the Stone Barns Center could be an eye opener for Nigeria in its quest for better ways of growing food.
Dame Patience Jonathan advocated for a similar center in Nigeria where farmers would be trained on modern ways of growing food and modern farming techniques in order to create a sustainable food system.
The First Lady said such center would serve as a vehicle for increased food production and food sufficiency in the country.
Farmers at Stone Barns grow over 200 varieties of produce year round and raise laying hens, broiler chickens, turkeys, sheep, pigs and bees.
Dame Patience Jonathan was earlier hosted to a Tea Reception by the wife of United Nations Secretary General, Mrs. Ban Su-Teik alongside other First Ladies who were present at the just concluded 65 th General Assembly of the United Nations.
Dame Patience Jonathan is back home.