11 YEARS AFTER: PDP GOVT A CALAMITY – BUHARI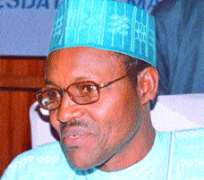 Four days to the golden jubilee of Nigeria's independence, former head of state and presidential aspirant, Mohammadu Buhari, reviewed the over 11 years of Peoples Democratic Party's management of available resources, and described its performance as a calamity.
Also, he warned that going by recent political developments, the political landscape was slippery and Nigeria was pregnant, while expressing the hope that there would be no abortion.
Buhari said the level of executive theft unleashed on the nation over the 11 years, when analysed, was so mindboggling that Nigerians should never have a misfortune of the party being foisted on them again in 2011.
Lamenting the extent of mismanagement of the nation, General Buhari, who was addressing a crowd of supporters of the Congress for Progressive Change (CPC) from and across the 36 states and Abuja, including former House of Representatives Speaker, Aminu Bello Masari, Mike Ahamba, SAN, at a National Consultative Forum in Abuja argued that the revenue that accrued to the nation since the amalgam year in 1914 to 1999 was far less than the revenue receipt between 1999 and now, but which the PDP government had squandered.
The former head of state, who said he was not speaking from abstract, explained that the 'records provided by former minister of finance, Ngozi Okonjo-Iweala indicated that the amount of money Nigeria realized between 1914 and 1998 was not up to the revenue realized by the PDP government between 1999 and 2010.'
As the nation prepares for 50th Independence Anniversary, the presidential hopeful described as a shame of a nation the fact that Nigeria was nowhere near her cotemporaries with whom it started 50 years ago, and with resources that could be compared to those of China, Malaysia, former Soviet Union and India.
For instance, he said, '50 years ago, we started like Malaysia, Brazil, China and co. Today in terms of infrastructure, manufacturing and other social services, where are these countries and where are we?' he asked rhetorically. 'We used to have railway, shipping line, national air carrier and good government schools. Railway used to be a veritable means of mass transport and haulage to spare the road of articulated vehicles. All these are gone and this is in spite of growing huge resources which were never available before.
'With all the resources we can boast of, Cholera is still part of the disease we are trying to fight.'
He pointed out that sadly some political gladiators were still adopting soldier tactics that they would rather die than see a new leadership emerge, especially from the progressives' camp. '2011 is pregnant, we hope there will be no abortion,' he stressed.
General Buhari, however, affirmed that in spite of the threats of do or die, operation totality or capture, his determination and commitment to a new Nigeria remained unshaken. The politician promised that his party was ready to reverse the ugly trend and that any party that was not disciplined could not instil discipline and change things when it got to power.
He said that was what necessitated the Consultative Forum warning the party members to always conduct themselves with honour and enshrine internal democracy, noting that 'whoever wants to contest any position from councillorship to president must go through the required process; you must submit to the choice of the people.'
Cautioning party stalwarts against running foul of the law, he said 'we don't want any of our members to be caught with gun or any metal object during election or any other time. Do everything with honour. This is why I left ANPP. They gave me the ticket to run for presidency two times, they were ready to give me the third time but I had to quit.
'We have to work hard and dislodge the thieves; we will stop the executive theft when we get to power. The textile industries used to employ hundreds of thousands of workers but today most of the factories have locked up. What has happened? Share indiscipline and corruption. We will revamp the railway system, bring back infrastructure and generate employment.'
Earlier in his address of welcome, National Chairman of the party, Senator Rufai Hanga, said the party was sending a clear message that a new order was in the offing and that Nigerians should be prepared for a change in 2011. He noted that CPC was the new hope of the common man and was prepared to stop the ongoing political hara-kiri and make life more meaningful to the people.