OBITUARY: CHIEF STEPHEN SAPELE ORAH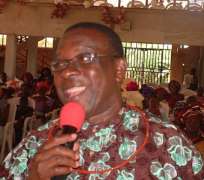 Chief Stephen Sapele Orah was born in Sapele, Delta State on November 19, 1941 to Papa Orah Ukoni and Madam Nnaba Ughelliyovwe. He Died on the 1st of September 2010 after a brief illness.
He attended the then African Primary School Sapele from 1948 – 1950. The school was later closed down and he finished his primary six at Salvation Army Primary School, Sapele.
Chief Orah attended Zik's Academy College from 1957 to 1961, where he obtained his School SAT. (He was a senior prefect of the school in his final year). He then left for Lagos, where he worked with the Nigerian Telecommunication Exchange for two years before he left for London in 1964.
In London, he joined the Civil Service as a clerical officer at the department of science and education, chancery Lane, Holborn, London WC1. While working, he attended the Woolwich polytechnic, where he obtained his HNC in Management. He later went to Nottingham to study for his Post Graduate at the Nottingham Polytechnic, where he obtained his Diploma in Management Studies.
On his return to London he gained employment with the Social Security Services in Rushy Green, Catford. SE6 as an Executive Officer. From there, he left for Nigeria to work with the then Government of the then Mid-Western State of Nigeria. As the General Manager of Mid-West Line from 1973 to 1978.
The late Chief Stephen Sapele Orah resigned his appointment with the Mid-Western Government in 1978 and went into private business.
He is survived by
Mrs Clara Temabor Orah nee Ejoh (Wife)
Children:
Mr Stephen Ese Orah (Son)
Mrs Enohor Ufuoma Akhile (Daughter)
Miss Odiri Joan Orah (Daughter)
Master Goma Peter Orah (Son)
Master Isaac Dafe Orah (Son)
Grand Children:
Master Mudiaga John Orah (Grand Son)
Master Idemudia Leonard Akhile (Grand Son)
Miss Ebanehita Rebecca Akhile (Grand Daughter)
Master Tega Jayden Orah (Grand Son)
Miss Maro Mia Orah (Grand Daughter)
Son and Daughter In-Law
Mr Lawrence Enahoro Akhile (Son In-Law)
Mrs Ibiba Sandra Orah (Daughter In-Law)
Funeral Arrangements are as follows:
Thursday 30th September (Service of Songs) at The Orah's Family House #14 Orah Drive off Upper Erhumwunse Street. Benin- City, Edo –State.
Saturday 2nd October (Interment) at The Orah Country Home, 1st Eghwrudjakpo Street, off Ring Road, Kokori Inland. Ethiope East Local Government, Delta State.
Sunday 3rd October (Thanks Giving Service) at Celestial Church of Christ #10 Ikpema Street, off Igbesamwan Street, off Akpakpava Street Benin –City. Edo-State.
Signed
Stephen Ese Orah
For the Family.
Disclaimer:

"The views/contents expressed in this article are the sole responsibility of

thewillnigeria.com

and do not necessarily reflect those of The Nigerian Voice. The Nigerian Voice will not be responsible or liable for any inaccurate or incorrect statements contained in this article."
Articles by thewillnigeria.com