OKORO, BRIGHT LIFT NIGERIA OVER MAURITIUS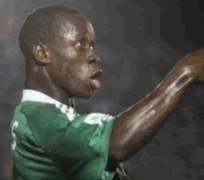 Okoro
Nigeria's Flying Eagles lived up to their pre-match vows as they subdued Mauritius 2-0 in front of their teeming fans in the first leg of the CAF Under-20 Nations Cup qualifier.
Information had it that Stanley Okoro opened scoring for Nigeria in the early minutes of the game before Ejike Bright increased the tally during the keenly contested duel in Mauritius.
The Nigerian team dazzled the host with tactical display throughout the match, as the boys made the home team look ordinary. The Mauritius' team is expected in Abuja in a fortnight.
In another qualifying match, Kenya's Under-20 team gave itself a mountain to climb after going down by a solitary goal to Lesotho in the first leg, final round of the qualifier to the Africa Youth Championships at the Nyayo National Stadium on Saturday.
After conceding an early goal by Lebata Tsebang, the hosts fought hard, but could not find a way into the net for an equaliser. There was a chance in the 17th minute when David King'atua was brought down in the box, but Musa Mohammed sent the ball flying over the bar.
The defeat comes against the backdrop of a crisis in the Kenyan camp, with the players threatening to walk out of training on Friday over unpaid allowances. Defender, Mohammed, missed a penalty, while Paul Were's shot in the second half rattled the crossbar, as the visitors held on to a second-minute goal to register an away win.
Coach Vince Ombiji, however, promised to turn the tables when the two teams meet in Maseru next month, saying the pressure in Nairobi deterred the young Kenyans from playing their game. 'We are going to win the return leg,' said Ombiji. 'I have seen the mistakes and we have time to rectify all that.
The Lesotho Coach, Lesley Notsi, was categorical that Kenya would not get the ball past his defence in the return leg. 'We will give the Kenyans the respect they deserve,' he said. 'They are actually the strongest team we have met in the qualifiers, but we are going to do our homework.'