2011: THOSE MISSING IN ACTION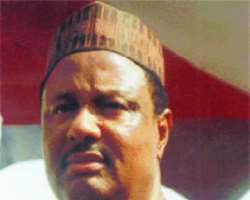 They were political leaders, who were the issues in their constituencies and held out forcefully in the minds of the electorate. In the nation's democratic march, their views were critical and their activism inspired, as it sustained. Today, they are no more in the arena, painfully missing, as their surviving gladiators comb the length and breadth of the nation, seeking for votes.
They include former President, Umaru Musa Yar'Adua, Second Republic governor of old Kano State, Alhaji Abubakar Rimi and two-term senator, and later Yobe State governor, Mamman Ali. Others include retired Deputy Inspector-General of Police Senator Nuhu Aliyu, Senator Tawar Umbi Wada, and Senator Kawu Peto Dukku from Gombe State. The list is by no means exhaustive.
Umaru Musa Yar'Adua
He started off politics when he joined the Peoples Redemption Party(PRP) in the Second Reoublic. His political career blossomed when he was elected governor of Katsina State in 1999 under the Peoples Democratic Party(PDP). He was re-elected in 2003 and became President in 2007.
He died in office on May 5, 2010.
Abubakar Rimi
On the Dec 11, 1978, Rimi was elected the deputy National Secretary of the Redemption Party(PRP) at the party's first national convention in Lagos. A close associate of the late Mallam Aminu Kano, he was an apostle of 'talakawa' politics and a frontline progressive. He was elected the first civilian governor of Kano State on July 28, 1979, at the age of 35. His tenure witnessed fundamental changes and controversies. Women in Kano State benefited significantly from his administration.
In December 1979, for the first time in the state's history, he appointed a woman commissioner and between 1979 and 1983, there were three, who served in the ministries of Trade. Industries and Co-operatives, Home Affairs and Information and Health. Ever holding iconoclastic views, he introdueced a robust Adult Education programme, under a department he named: ' Agency for mass Education' in April 1980. This adult education programme was recognized by UNESCO (United Nation Educational, Scientific and Cultural Organization) of the United Nations, based in Paris. In 1993, he was appointed Minister of Communications.
Highly cerebral and vocal, the handsome patriarch of Kano politics was in the Peoples Democratic Party(PDP) and chairman of the finance committee at inception. He was a presidential aspirant on the party's platform in the 2003 elections, even against the zoning policy of the party. His political views were shorn of the political diplomacy and often combative.
On the pervasive corruption in the society, he said: 'Corruption and acts of impropriety have become a way of life, and it is evident that corruption in Nigeria is not being punished. People know that if they steal pubic funds they will only be relieved of their jobs or their office, and they are left with their ill-gotten wealth. It is only fair to the people of Nigeria, that if someone is found guilty of corruption, such as theft of public funds, they should be called to account for those funds, and be sent to prison'
His views on followership: ' You see the general Nigerian populace does not have the power to do much. First of all, the majority of Nigerians are politically unaware and largely uneducated. Most are afraid of the authority, because it is unjust, corrupt, and sometimes ruthless. Thus, the people are unable to do much on their own. But if there is a leader that will lead them to revolt, they will participate in the revolt.'
'It is not true that the problem with Nigeria is that it is composed of different ethnic groups, in fact, there are more ethnic groups in America than you have in Nigeria. Every ethnic group today is represented in the United States. So, while we have 259 or so ethnic groups, every ethnic group that you know in Nigeria is in America,
Today, one can find Nupe, Gwari, Hausa, Igbo, Yoruba, Efik, Annang people; they are all over the place in America, as students, residents and nationals… they are all there. It is the same thing in England, in the new Britain, where you have Indians, Nigerians, Arabs, Greeks, Turkish, Bulgarians, Caribbeans and East Europeans, not only taking up residence, but becoming nationals, becoming British.
Leadership
'The problem of Nigeria is poor leadership. Nigeria simply hasn't had a history of good, honest, patriotic, incorruptible leadership. Everybody sees government as a way of feathering his nest'.
If Rimi were alive, he would kick against the dominance of the political scene especially the presidential race by ex-military officers. His words: ' The military is the richest group of Nigerians today, because you know when the military comes to power, their concern is not how to rule, that is not their training. Their concern is to conquer the country, so that everything becomes a booty. When a military man takes over power, his attitude is that everything belong to him… and this attitude doesn't leave them, no matter how many years they have been out of service'
Igbo presidency
'You see where the Igbo are going wrong in my views, is their bid for the presidency. They are toeing the ethnic line, they are playing the ethnic card. We Igbos, we Igbo; we should be given the opportunity to be president…. No, you don't become president because you are Igbo; you become president, if you are able to organize a party or you organise support within your party to get the necessary votes at the convention of your party'
Religious intolerance
I don't believe there is a single incident of religious crises in Nigeria, if you investigated every single so-called religious crises, you will see behind it, there is politics… and in each of these crises, the people behind it are known. The imams, the emirs, chiefs, the priests, bishops and the obas, they are known, and the politicians who instigate them are known, but you find commissions of inquiry being set up and instead of blaming those peole, they blame somebody else'
His politics
I have been in politics since 1964, and I contested for the governorship in 1979. This is a gap of 15 years, and I joined politics at the age 24. The youth of today are more concerned about money. They are not concerned about ideals and ideologies, philosophies and service. That is not what is before them, not all of them, but the vast majority, what is before them is to have a job, to get married, to have a good car and live a good life.
In our time, we were not thinking like that, although I married very early, five years before I contested election to the House of Representatives, and that was on December 12,1959. I contested election in December 1964, that was a gap of five years. I was imbued with patriotism and concern for the common man. I came from a rural area where I saw people suffering abject poverty and deprivation.'
Mamman Ali
He was a two-term senator, and later became governor of Yobe State. He died last year in a hospital in Miami, United States of America. He held the politics of Yobe State like a colossus for 12 uninterrupted years. In the twilight of his life, his political activism dwindled following his battle with leukemia, which eventually killed him. He was always in and out of the country for medical attention; and there was a time he was rushed out of an occasion, when he almost slumped. Ali's last words on marble include claims that it is near impossible to do a wholesale amendment of the Constitution, especially when polarizing issues as immunity clause and resource control feature.
'I can assure you that a Constitution amendment would be a tall order' he said in response to a question on whether he would join calls for the removal of the immunity clause. 'Intrigues and (conflicting) interests are bound to kill whatever attempt at a wholesale amendment, one that would touch on the fundamentals of the contending interests. I can assure you that by the time the whole thing leaves the National Assembly and goes round the 36 state Houses of Assembly, some governors would find a way of sponsoring a rebellion against it and that would be the end.'
'And mind you it is not absolute, whoever commits any wrong while in office would always face the music after his tenure ends.' He also spoke severely on the crises in his All Nigeria Peoples Party (ANPP), and lauded its presidential candidate, Muhamadu Buhari for saying he remains in the party because he did not join it because he wanted to be president. 'That shows the former head of state is a man of honour. I admire his courage. I respect him for that decision, in spite of misguided pressures on him to quit the party'
Ali was born in Jimeta, Adamawa State in 1958 and had his primary and secondary education in Jimeta and Human Crafts School in the old Gongola State. He attended Kaduna Polytechnic for his Higher National Diploma (HND) and did national Service in both Kaduna and Abuja in 1982.
He further bagged two degrees in constructions and extensions from Tuskegee University, Alabama, United State. He worked as senior engineer with the Ministry of Works in the old Borno State for 15 years and retired in 1990. He left behind two wives and five children.
Nuhu Aliyu
He was elected into the Senate in 1999 on the platform of the Peoples Democratic Party(PDP) for Niger North constituency and became chairman of the Committee on Police Affairs. Frank and blunt to a fault, Aliyu had in January 2001, after the Senate's rejection of liberalization of the downstream sector of the petroleum industry said it was because the Senate had not been consulted.
Early in 2002, the Senate attempted to impeach former President Olusegun Obasanjo. It emerged that members of the National Assembly had been financially bribed to drop the proceedings. Aliyu revealed that he had been advised to collect his share of the impeachment booty, but that he refused. In January 2003, as Senate Committee Chairman on Security and Intelligence, Aliyu advised the Senate not to conduct the screening of three proposed ministers in a haste and later complain about the conduct of the nominees. He was re-elected in 2003.
In May 2003, he saw to the passage of the bill on Hydro-Electric Power Commission, which was the North's response to the contentious Niger Delta Development Commission(NDDC). He sponsored a motion that criticized the withholding of local governments council allocations and grants by state government. In January 2004, his Guest House in Kontagora was torched over a disputed local election.
In September 2004, Aliyu seconded a motion that Obasanjo should relieve Mallam El-Rufai of his job as Minister of the Federal Capital Territory (FCT) within 48 hours. This was a reaction to El-Rufai's public description of Senators as 'fools'. He was reacting to a Senate Public Account Committee Report that indicted him of financial irregularities, both as Director General, Bureau for Public Enterprises (BPE) and as FCT minister.
In December 2004, he thumbed down a report from the Senate Committee on States and Local Governments on restoring peace in Anambra State, saying a pending report on the same subject by Senator Davis Mark's committee was likely to be better researched. By far, his most celebrated outburst was in May 2005, when two agencies established were probing some members of the House of Representatives. A section of the House threatened to impeach the President. Aliyu came out to say that he had investigated some prime movers of the impeachment plot over alleged fraud during his career in the police.
He described them as 'confirmed distinguished crooks.' In November 2005, he moved against the Federal Road Maintenance Agency (FERMA) and the Federal Ministry of Works asking for probe on them within four weeks.At the height of the Third Term bid of Obasanjo in February 2006 and the botched Constitution review, he described it as 'evil'. Highly acclaimed as a politician with no friend or foe, Aliyu in April 2006 demanded that various allegations of fraud against Senator Ibrahim Mantu, the then Deputy Senate President should be investigated; and that he be suspended from the Senate during the investigation.
The Senate launched a probe on Mantu, but the motion to suspend him failed.
In February 2007, the Economic and Financial Crimes Commission (EFCC) came under his vitriolic venom; for allegedly allowing itself to be used by the government to fight its perceived enemies.
In April 2007, he was re-elected to the Senate for the third time and appointed to Committees on Security and Intelligence, Police Affairs, Local and Foreign Debts, Culture and Tourism and Communications. He contested for the position of Senate president, but lost.
In January 2008, he accused some Senators of fraud but demurred on the advice of his lawyers, apologized and withdrew his allegation without pinpointing the Senators. In May 2009, he said a police report presented to the court of Appeal on the Osun State governorship election petition was forged, noting that the sole role of the police in an election is to keep peace
Background
Nuhu Aliyu was born in June, 1941. He studied Advance Police Management at the Police Staff College in Jos. He became a Deputy Inspector-General (DIG) of Police.He was in charge of operations during the June 12 1993 riots. He was state chairman of the Niger State chapter of the PDP before he was elected into the senate.
Senator Tawa Umbi Wada
He was elected Senator for Gombe South Constituency and took office on May 29, 2003. He was re-elected in 2007. A member of the PDP, he was born on January 27,1957, and studied law at the University of Jos. He was called to the Bar in 1983. Later he earned a postgraduate diploma in Journalism. Before joining politics, he was an assistant Director at the Federal Ministry of Science and Technology and Ministry of Police Affairs. He was also Attorney General and Commissioner of Justice in Gombe State. He also worked at the Corporate Affairs Commission, at a time.
At the Senate, he chaired the Information, Media and Labour Committees. He sponsored bills for the Nigerian Academy of Sciences and enhanced service for federal law officers. He was the Senate Committee chairman on Agriculture before his death. He died on March 31, 2010.
Senator Kawu Peto Dukku
He represented Gombe North in the Senate. He was the vice-chairman of the senate committee on states and local government affairs. Dukku, was a member of the Gombe state House of Assembly from 1999-2003 and became the speaker from 2003 - 2007. A public servant before his foray into politics, he was born on January 14,1958. He was a teachetr and later joined the Goal Star Oil company.