I HAVE NO REGRET DUMPING ACN – ATIKU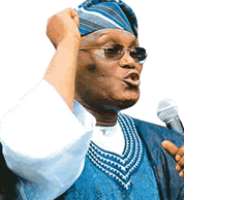 Atiku
Former vice president and presidential aspirant of the Peoples Democratic Party (PDP), Alhaji Atiku Abubakar has said he has no regrets leaving Action Congress of Nigeria (ACN) for PDP.
Speaking with newsmen at the Ilorin International Airport, Kwara State, at the weekend shortly after paying a condolence visit to his bereaved in-law in Ilorin, Alhaji Abubakar said his plan to contest for the presidential seat on the platform of PDP was on course.
The former vice president who contested for the presidential seat in 2007 as AC candidate but lost to the late president, Alhaji Umaru Musa Yar'Adua of the PDP, said he and three other PDP presidential aspirants 'are working toward a consensus presidential candidate from the North.'
'Whoever emerges as a consensus candidate from the North at the end of the day will be accepted by all of us. What we want is somebody that will represent the interest of the people of Nigeria and promote unity and understanding among the people irrespective of your religion, tribe and ideology,' he said.
He lamented that the 'Nigerian economy is in a state of shamble' saying that he had the experience and exposure to lead the country if elected as the next president of Nigeria. He noted that Nigeria was a great country and as such people ould make the country great and revive the economy should be allowed to lead the country and not people that did not have the experience and exposure to lead the country.