AKINGBOLA BREAKS SILENCE, WHY I PETITIONED JONATHAN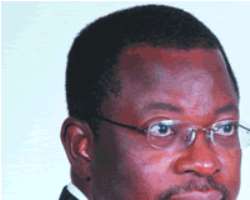 Former Group Managing Director of Intercontinental Bank Plc, Dr Erastus Akingbola, has put a lie to the rumour making the rounds that his petition against the Kwara State Governor, Dr Bukola Saraki, on his alleged take-over of Intercontinental Bank Plc through Mallam Sanusi Lamido Sanusi and Mr Mahmoud Lai Alabi, is a ploy to thwart Saraki's presidential ambition.
According to him, the petition was devoid of any political undertone but rather borne out of agony and desire to seek justice and have the take-over of the bank reversed so that the board, management and shareholders could get back their business.
Akingbola, who returned to the country early August after a year in exile, had in a petition to President Goodluck Jonathan through the Attorney-General of the Federation (AGF) and Minister of Justice, Mr Mohammed Adoke, alleged that Governor Saraki, working hand-in-hand with the Central Bank Governor, Mallam Sanusi, used arm-twisting to drive him away from a business he started and nurtured for over 21 years.
Explaining how the whole plot was hatched, Akingbola accused both Sanusi of using the ongoing banking reforms as a smokescreen, almost immediately he was appointed the CBN chief on June 4, 2009, to engineer a take-over plan, using Mahmoud Lai Alabi, a former employee of Saraki, as a front.
In the petition titled: 'Fraudulent Takeover of Intercontinental Bank Plc by Dr Bukola Saraki, Mallam Lamido Sanusi & Mahmoud Lai Alabi.' the ex- bank chief appealed to the AGF to institute an independent investigation into the 'so-called' banking reform of Sanusi, the fraudulent N32 billion loan write-off at Intercontinental Bank(IB) and all the allegations against bank Chief Executive Officers (CEOs).
Also, he urged the Jonathan government to reverse the fraudulent take-over of the bank and return it to its board, management and shareholders.
Akingbola assured the government that 'even with the deliberate damage being done to the banks and their stock prices on a daily basis, if we are given six to nine months, the banks will be restructured to normal, favourable and fair positions.' His pleas arose from his conviction that political power was used to take over Intercontinental Bank Plc after failed peaceful merger attempt with Societe Generale Bank.
'We conducted a due diligence exercise on Societe Generale and noticed N30billion negative capital - so the board of IB Plc turned it down.'
According to Akingbola who believes CBN governor is fully in the picture, 'after just two weeks in office - he sent CBN examiners to five banks, including IB Plc. This was quite unusual, as the CBN had just completed a comprehensive examination of IB Plc as part of normal protocol. The result of this was good.'
'The new examination finished in mid-July, and we were expecting their report. Suddenly, they returned claiming that several accounts, which they had verified and agreed with us as 'performing', were now reclassified 'non-performing.'Despite these manipulations, IB Plc's ratios were alright. Unusually, the CBN examiners returned on four separate visits to re-classify even more accounts as 'non-performing.' These even included what we regarded as our best accounts.
'This prompted me to ask some of the examiners what was really going on. They confided that the new governor was bent on removing certain bank CEOs, and wanted to show that IB Plc was too exposed to bad loans. They said he formed a team in CBN reporting to him directly.
Each completed examination report was turned down if it was not damning enough and they were ordered to go back until they achieved certain ratios. One of the examiners showed me a report on IB Plc, which was favourable. The petition also opened a can of worms on the role of other business men and politicians.