I've never finished reading a novel in my life — Diplomatic OPJ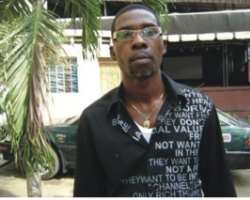 You must have heard his voice on the popular Go Slow Yan in Wazobia FM and may have received some flogging from him. What you don't really know about the Diplomatic OPJ is that he had a long journey to fame. In this chat with AMARA OSAJIUBA, he goes down memory lane how he became a Disc Jockey before joining the ranks of poplar broadcasters in Nigeria. He also reveals how his busy schedule has not allowed him to read.
GROWING up
Geographically I am from Nprado, Ndokwa East LGA of Delta state but was born in Ijebu-Ode during the civil war before we relocated to Anambra state, which I didn't get to know. And at the age of 14 I was taken back to Lagos and grew up there all my life. For my educational training, I am very learned; officially stopped Secondary School with Government College, Ojo and then proceeded to the street university, a non-government approved school that has every department and faculty with everything you need to know in life put in place. In other words, I am a street boy. But that is not to say that I can't compete favorably with graduates.