WE ALL HAVE A STAKE IN THE NIGERIAN PROJECT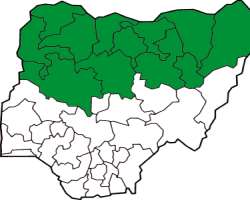 I am really very surprised that discussant on the Dandali group decided to send to the South- South geo-political zone simply because I have written one or two articles about President Goodluck Jonathan's constitutional and moral right to contest for the presidency in 2011. Where on earth has a sitting president ever been barred from a contest simply because a cabal wants to monopolize power via threat and blackmail?
Nobody from any part of Nigeria was barred from contesting on the platform of PDP in 2003; nobody was barred in 2007 either. The PDP chairman and even those who contested like Chief Barnabas Gemade have confirmed that. What has changed in 2010/2011 that some people wished Dr Goodluck Jonathan should not exercise his fundamental constitutional right as a Nigerian citizen? What some of us are saying is that the multitude of Nigerians that gathered at Eagle Square Abuja for his declaration of intent for the presidency testifies to people's love for him. Members of the audience came from Sokoto, Borno, Adamawa, Kano, Zamfara, Oyo, Abia, Enugu and many other places of their own volition because of their love for his style of leadership and love for Nigeria. They want him to continue for the next five years. What I personally like about his style of leadership is the humility to accept his short comings and apologise and even reverse any unpopular decision he has taken. Example, the reversal of the ban on Super Eagles.
Dr Goodluck Jonathan must be given his due and rights as a Nigerian more so it is his part of the country that has sustained Nigeria for the past 50 -55 years. His performance in the past four months testifies of his ability and seriousness to take Nigeria to greater heights. Before now I was never a fan of Dr Goodluck Jonathan until the Yar'adua cabal tried by all means to short-change him out of power. Right from the beginning I never liked the PDP zoning since it only applies to the presidency and not at the state level. I have advocated times and times again that if PDP zoning must apply, it must apply at all level including states and local governments. I gave examples of states like Adamawa where Murtala Nyako and his cousin Minjinyawa Kugama from Mayo Belwa local governments are both the governor and PDP state factional chairman respectively.
I am proud to still say that virtually all the print media in Nigeria of note have ever published my articles. My article for example titled "Why General Muhammadu Buhari can glow with pride" was published by 14 Newspapers across Nigeria. Almost all Nigerian online media published it. But no body said I was from Daura or Katsina.
I simply took to writing to fight all forms of injustices in Nigeria so that we can have an egalitarian country where no body is oppressed because of his belief or tribe. Like Nelson Mandela said I have fought against all forms of domination, I have written against religious domination. I have written against religious persecution and bigotry. I have written against political injustices. If Allah in his wisdom have zoned the presidency to the South-South geo-political zone, who are we to question Allah's will.
By the way what happens then to the 38 years the Northern part of Nigerian had been in power compared to just 12 years of the South. If truth be told is it not fair to allow the South to rule for approximately 38 years to compensate them before even talking of shifting power to the North?
The Northern masses should stone their leaders and throw shoe at them. At the last count 781 people have been killed by cholera in Adamawa, Borno, Yobe and Jigawa States. Meningitis ravages the North like bush fire. States like Adamawa, Jigawa, Kano and Sokoto are flooded perennially yet these states collect the highest allocation from the Federation account. 38 years in powers and highest allocation from the federation account yet there is nothing on ground to show for. Primary School and Secondary pupils in Adamawa State still attend classes under trees in the 21 Century yet Rear Admiral Murtala Nyako still want to contest the governorship election in 2011. He has just hired 15,000 thugs as special assistance in preparation for the 2011 election because Adamawa elders have vowed to dislodge him from Government House next year. The state civil servants have been on strike for 14 months continuously because of lack of payment of their salary. Yet when we write to say the truth and expose the rot in the system, death threat is what we get. While a coward die nine times before his real death so goes an adage.
Nothing will deter me from saying the truth, not even death threat or letter bomb like the one that killed Dele Giwa in 1986.
This struggle is our life, we must achieve an egalitarian Nigeria of our dreams where a boy from Otuoke Bayelsa State or a girl from Kanke Plateau State or even a boy from Michika Adamawa State or even from Eket Akwa Ibom State or from Zuru Kebbi State can aspire to be the president of Nigeria based on merits and not on tribe or religion. It will be said of Nigeria though tribe and faith may defer in brotherhood we stand.
We still insist that those who brought shame on Nigeria in the last 25 years have no place in leadership position again. Even my critics will agree with me that the Nigerian green passport became a thing of scorn at International Airports worldwide when General Babangida introduced 419. Even my critics will still agree with me that before 1985, the Naira was a currency of exchange on the streets of London, Milan and Amsterdam. When Babangida destroyed the Naira, no body was touching it with a long stick again in Europe. My critics will still agree with me that especially those of us from the North we were taught by Indians, Pakistanis and even Europeans in our secondary schools before 1985 because the Naira then had strong value to attract foreign teachers. When Babangida came to misrule Nigeria, the trend was completely reversed such that even Nigerian professionals like medical doctors, nurses, Radiographers and many others fled Nigeria in leaps and bounce.
All the fake promises Ibrahim Babangida made at his declaration of intent were the same deceitful promises he made in his eight wasted years as a military dictator. The only thing he did not add this time is "Insha Allah".
Children in the primary and secondary schools have long been taught that General Ibrahim Babangida former military Head of State is the father and author of corruption in Nigeria. The International Community is well aware of that. Northern Nigeria must distant itself from General Babangida so that it will not be seen to be promoting corruption on a large scale in Nigeria. Only corrupt people will associate with a corrupt man. An adage says "Show me your friends and I will tell you who you are!"
It is true that people must maximise getting their share out of his unquantifiable loot. Let it end at that. I appeal to the NTA or AIT to bring IBB to their studio for a live program so that we can phone and ask him why he believes in insulting our collective intelligence.
Therefore as every opportunity presents we will continue to write against the Injustices in Nigeria whose ever ox is gored.
Instead of talking of zoning let us talk of how to convene the 'Sovereign National Conference.' But before then God has zoned the presidency to the South-South for now.
Ndiameeh Babrik is at [email protected]
Disclaimer:

"The views/contents expressed in this article are the sole responsibility of the author(s) and do not necessarily reflect those of The Nigerian Voice. The Nigerian Voice will not be responsible or liable for any inaccurate or incorrect statements contained in this article."
Articles by thewillnigeria.com