LONDON BRIDGE HAS FALLEN DOWN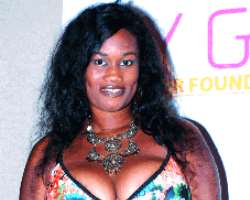 Breastful
My jury thinks your dressing is deliberate , because all you needed to do was to tuck-up your dress an inch and pull your shoulder straps back. This is just a desperate act of an attention seeker who has resorted to aggressive marketing. Big sis, your boobs make us feel so depressed and we're sure we all might need some eye drops after seeing this.
Pay of N850, 000 fine.
Heavy duty
We were told that your cargo caused an uproar when you were arrested and as a result of this, you became an obstruction to other road users. Your front view became a headache for everybody. In fact we have been told that you've incurred additional demurrage. We hereby call on LASTMA to tow you off the road and to their office at Mile Two with immediate effect. You're hereby ordered to pay the sum of N1million fine.
However, you will be granted bail
on condition that all your
tax bills have been paid.




Boobs slam
This is simply awful and distasteful. We so much understand that if you paid the price of a car to look good, you won't park it in a garage. No wonder you have decided to leave little or nothing to the imagination. This boobs slam is outrageous and your arms are flabby too. We won't take things lightly with you.You have
been fined N1million.


South-south summit
You pleaded not guilty and even went on to a higher court to prove your case, but this exhibit beats our imagination o! You couldn't even tame those wild south-south boobs on your chest with a bra when you knew so well that they are better off in an iron bra. Instead you decided to harass every married man, bachelor and even our teenage boys. Very unacceptable!
We couldn't stop the tears when we saw this exhibit. My jury was at a loss for words. Your appeal has been defeated. We therefore affirm that you have been found guilty and your offence is punishable under Sections 345, 422, subsection 452 of the style and moral code of the 1999 constitution. You're hereby ordered to pay a fine of N5 million after which you will be sent to ex-militants' rehabilitation centre to entertain them.
.


Liquid content only?
During cross-examination, you claimed that you only gave the public a glimpse of your cleavage but all evidence shows otherwise. Your cup is running over and the spill is everywhere that every Chike, Alli and Ade could hardly take their eyes off it. You have been found guilty of substandard product packaging and fined N1.5million.


Breastfully yours
We have received several petitions from the public that you deliberately flaunted your private assets in public. What we don't understand is why you have decided to show off your things when you know so well that they remind us of the rhyme London Bridge is falling down. For flagrantly flaunting the law you are to pay a fine of N1million.