LAWAL BLASTS ODIGIE OVER U-17 TEAM FAILURE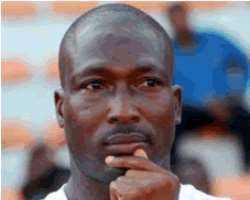 Odigie
The inability of Nigeria's Eaglets to qualify for the Africa Under-17 Youth Championship (AYC) billed for Rwanda next year is still drawing reactions from stakeholders in Nigerian football.
Nigeria was eliminated from the qualifiers by Congo DR after beaten the Eaglets 3-1 on aggregate score. The first leg encounter in Congo ended 2-0 in favour of the host, while the return leg in Kaduna ended in a 1-1 draw.
Reacting to why his team crashed out from the cadet championship, coach of the national Under-17 team, Monday Odigie, said he prosecuted the competition with players who were truly under the age of 17, which he said was a departure from what we used to have in the past where a sizable percentage of players, who play in the Nigerian Premier League, were used to prosecute the championship.
He went further to accused the referees, for not doing a good job during their matches against the Congolese. However, in a swift reaction, ex-international, Garuba Lawal, said Coach Odigie should shut up his mouth and accept the responsibility for his wards' inability to progress in the AYC qualifier. According to Lawal, Odigie's myriad of excuses simply portrayed him as an irresponsible and unprofessional fellow, who lacked the ability to handle the junior national team.
He said in his entire playing career, any time he failed in his assignment, he never wandered about blaming others for his failure, but would rather take responsibility of his actions and tried to learn from his mistakes.
In a telephone chat with Sunday Sunsports last week, Lawal said: 'As far as I am concerned, the excuses Monday Odigie is offering as to why the Under-17 national team failed to forge ahead in the ongoing AYC qualifiers are rubbish.
'How can he be giving such excuses? It is unprofessional of him. I had expected Odigie to accept responsibility for the failure of his team and try and learn from his mistakes instead of opening his mouth wide and talking rubbish. 'Look,' Lawal continued, 'throughout my playing career, I never gave excuses as to why I failed in my assignments. Instead, I accepted responsibilities for my actions and tried to learn from my mistakes to avoid a repeat of such mistakes, and that is exactly what I had expected Coach Odigie to do as a professional.
'I find it annoying to see coaches making excuses when they fail with their teams. For me, a professional coach should simply accept responsibility for his failure and try very well to learn from his mistakes in order to forge ahead.' The further utility player said he was not surprised when the Eaglets crashed out of the AYC because after watching the team in training in Kaduna, he concluded that it would go nowhere. He said in their match with the Congolese, the visitors out-played them in every department.
'I knew the Eaglets were heading for a crash because if you were privileged to have watched them while in training in Kaduna, nobody would tell you that they were going nowhere. And even during the match against Congo DR, you would notice that the visitors out-played them in every department of the game.
'I think we should start now to rebuild the team to enable us make progress in the near future. But in all, people should learn to accept responsibility for their actions and learn from their mistakes; that way, we can develop better,' Lawal admonished.