EKITI ESTABLISHES 50 NEW PRY SCHOOLS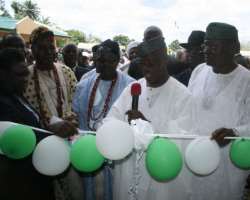 Between 2007 and now, 50 new primary schools have been established in Ekiti State by the State Government, Governor Segun Oni has disclosed.
Governor Oni, who was speaking during the commissioning of the SUBEB Model Nursery and Primary School, Ise Ekiti, and the official flag-off ceremony for the registration of school age pupils said the standard of education in public primary and secondary schools in the state had improved significantly in the last three and half years.
Describing the State SUBEB as the best in the country, the governor stressed that his administration has since assumption of office in
2007 created a conducive learning environment for pupils through the provision of decent school buildings and furniture for teachers and pupils, robust welfare package for teachers as well as free text books for all primary and secondary school pupils.
According to Oni; "the state government had during the period established over 50 new primary schools, constructed over 2017 classrooms including 75 storey buildings, while over 6000 primary school teachers many of whom had been stagnated on a particular salary grade level had been promoted during the period."
While stressing that his administration was the first to implement the new Teachers Salary Scale structure in the south-western part of Nigeria , he noted that the school feeding programme under which school pupils are giving eggs and chocolate drink twice every week was on course in spite of the resistance of the opposition to the programme.
Earlier, SUBEB Chairman, Prince Dayo Adeyeye had noted that the improvement in the quality of infrastructure and standard of education in the public primary schools in the state was responsible for the sharp increase in the enrolment of pupils in public primary schools which rose from 125,461 in 2007 to 153,303 in 2010.
He disclosed that pupils in public school in the state have continued to perform excellently in national examinations and win laurels in both regional and international competitions including the 2009 UNICEF Quiz competition , the 2009 Mathematics Association of Nigeria Quiz Competition and the 2009 National Science Association of Nigeria Project Exhibition Competition.
Adeyeye disclosed that the board had also established library and computer rooms in some selected schools while efforts was in top gear to introduce geographical gardens in 32 schools where pupils will be taught how to read the rain gauge, wind vane and thermometers and other geographical equipment at a tender age