Why male friends are adorable-Uche Benjamin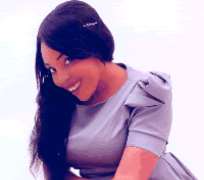 Uche Benjamin is not just a Nollywood pretty face. As an undergraduate at the University of Port Harcourt where she studied biochemistry, she became quite good in learning intricate chemical structures of molecules. But the Imo state indigene from Owerri, is living out her passion as an actress.
The delectable lady describes herself as an extrovert, and a fashion freak who can also be very compassionate. In this interview with Oge Okonkwo she talks about her blossoming career in Nollywood and the challenges she encountered on her rise to prominence. Excerpts:
Why did you go into acting?
Right from primary school through secondary school and even in church, I have always been on stage acting. I felt it has always been in me, so when I graduated from the University of Port Harcourt (Uniport) I went to an acting school to improve my skills .
I attended a private acting school where I could improve and later on, Segun Arinze told me of an audition organized by Chico Ejiro in collaboration with Grandtouch Pictures and based on his recommendation , I went for the audition and they were impressed with my performance. Subsequently, I was given a lead role in a movie. From there, I got other jobs and other auditions.
Did you also act while in the university?
If you are referring to Nollywood, I didn't , because I was a science student and didn't have time for acting. My focus was basically my education, so I needed to face my studies till after graduation before I could go into what I had a flair for.
Does that mean goodbye to biochemistry?
Right now, it's acting that I'm interested in but maybe later, I could use it.
So how long have you been at Nollywood?
Hmm, it's a year now.
How many movies have you done?
I have done 11 movies so far . Among them are Crossroads (A series), Margaret Thatcher, Pains from the heart, Everlasting love, Olumide my son and others I can't remember.
Have you won any awards?
I'm new in the industry, probably in the future they will come , but I got an award from City People as an outstanding upcoming actress and I was also nominated as best supporting actress for crossroads at the Terracotta Awards that will hold soon.
Which top Nollywood stars have you worked with?
I have worked with Uche Jumbo, Kate Henshaw, Emeka Ossai and Gollywood stars like George Melo and Jackie Appiah and some others I can't remember.
What was it like working with them?
It was a beautiful experience working with them and they are wonderful people I really admire when I see them on screen . I've always longed to work with them and for others I haven't worked with I pray the opportunity to do so will come.
Who is your role model in the industry?
My number one role model is Liz Benson. Though she is no longer acting, but people say that I look like her… that I have the same facial structure she has. I also admire Uche Jumbo and I love to watch her movies a lot. I felt happy working with her and love to learn from both.
What were your challenges and how did you handle them?
The challenges I have experienced so far have to do with the job. I was at the bank one day when a lady accosted me and accused of sleeping with her sister's husband. It was actually a role I played in a movie. I was so embarrassed , because a lot of people were looking at us as she was creating a scene.
Probably she felt I was truly doing such and also she didn't ask like someone joking but in a hostile manner as though she was very upset. I had to make her understand I was only interpreting a role and I am not that kind of person that will do such. It is really challenging, because here in Nigeria, when you do something they attribute it to your personality as was the case in the movie, Crossroads. Such roles gave a wrong impression about me.
Also, I was required to fight in another role I played. I laughed when I read the script, because I had never fought before but the producer encouraged me to give it a shot. These are the challenges aside other personal challenges one experiences.
In handling these challenges, I had to tell myself that it's my job that I am doing and despite that, I am interpreting a role I can never do off screen , so I try to distinguish the job from my life now that I am still young in the industry.
It seems most of the roles you play are sex related?
No. I can never do sex roles not even for $1 billion. Though it's part of acting, sometimes you have got rules which you can't violate. My rule is that I can't do a sex role though I might be hurting some people out there.
What about acting nude?
No, I can't act nude. We all have rules but there are certain things you can't do. I'm not saying it's bad, but I can't act nude.
Have you ever encountered sexual harassment in the industry?
Sexual harassment is in the industry, but the funny thing is that it is not just in the industry only but also in offices. If you show you are so desperate in life for anything, it gives room for harassment and those that were harassed had this desperation in them. They invited it and when someone sees that you're desperate, then harassment sets in.
It has never happened to me , but I get to hear from people that it has happened to them but those people I believe didn't do the normal thing. If you take one step at a time with confidence and your talents and believe God's time is the best, your time will come and there will be nothing like sexual harassment.
What were your parents' reaction when you took to acting?
Hmm, my mum wasn't against it , but initially my dad wasn't really very sure about it , because the norm in Nigeria is that people basically have the wrong impression that you are bad once you are an actress . In reality, you are only entertaining and interpreting a role and when you know a child has a flair for something, you don't have any reason not to let go. So , when I convinced him of my passion for acting back then when I was child and the prizes I won to show for it, he understood and gave me support.
What are your interests?
I enjoy going to the cinemas to see movies and I read a lot of papers and magazines to get information about things. I am also a fashion freak and I love good things.
Let's talk about your modeling?
Well, I do modeling as well and I have modeled for Sammie Okposo in one of his musical videos titled Wedding song. I have also done a commercial for bobo juice that is coming out soon and I've featured in calendars for a new soap in the market.
I ventured into modeling , because when people see me, they commend my good looks and skin and that was how it started. It wasn't my line, but when an offer is made, I accept it . I must say it's been nice and beautiful and it has fetched me some nice income.
How have you been handling the exposure that comes with both jobs?
Now, I am careful of where I go unlike before when I used to think that people don't know me , because I am new in the industry. Surprisingly in places like banks, people say to me " I watched you yesterday" or even post comment on Facebook which is an indication that people are watching and so I tell myself that I have to be careful in certain things I do or places I go and despite the fact that I'm new I wonder what will it be subsequently. Sometimes, I imagine what celebrities go through because now it's like one has lost privacy and you're not free to express yourself or live your kind of life.
But would you have wanted such?
Hmm, naturally, my kind of person, I carry myself but now, it has made me carry myself more now and just be careful about certain things.
What are your fears?
I really do not have any fears , but I must say that I am really comfortable and enjoy what I am doing. In fact, acting gives me joy and has brought more happiness than fears.
Any regrets?
No regrets at all, I am very happy
What's your definition of love?
Love is all about being compatible with someone and being compatible with someone is all about understanding yourselves , but not many people know what it means to love. You see someone says "I love you" to someone they just met for the first time. I think it's funny and that there is something wrong upstairs with that fellow. I believe that love is a gradual process and actually comes with time.
Have you ever fallen in love?
Laughs! I can't answer that because it is my private life.
Have you ever experienced it?
Well, I have.
What was it like?
Love is beautiful when it is the right person.
How do you know the right person?
Love generally is a nice thing , but there are a lot of tricky people out there. Some people profess love when they don't mean it from their hearts. It's really hard to know the right person especially when you are attractive. I advise ladies to be careful generally.
What about marriage?
I don't want to talk about that , but with the way you see me, do you think that people are not coming? I'm just being careful, so I don't make any mistake in future, because marriage is for a lifetime.
Who is your kind of man?
He should be God-fearing , because he will have the conscience not to do a lot of things and it is the first thing I look out for not only in guys but friends generally. He should also be straightforward. Rather than claim to be God, I will prefer him to say he is the devil than concealing it.
How do your friends handle your new status?
Some of them feel that I don't really have time for them and that I snub them , but I don't see myself doing that , because like I said, when you are into entertainment, what you don't really expect comes, so you find yourself being something else. I have explained to them and they have learnt to accept me the way I am. They stick to me and Facebook has brought me and a lot of my secondary school friends back together and they are very happy, but I don't really keep a lot of female friends. Girls are something else.
Why don't you keep a lot of female friends?
I don't , because girls are something else. Not all girls though. They are not really what they claim to be and so I prefer male friends , because they give good advice and encourage me to bring out the best in me, so I get to learn more from them than female friends.
Your dad is a pastor and it seems he has a greater influence on you than your mum. Is that true?
My dad is a knight in the Anglican Church and he gave us Christian upbringing . He calls me to ask if I have prayed for the day. He is so strict that then as a child, I used to regret having such a dad, but now I am grateful to him because my background gives me joy. I'm also close to my mum , because as a civil servant, my dad was always being transferred and mum was always the one around and we are a family of four girls and a boy. I am the first.
What makes you unique?
I have got a style. It is left for people to say it , but I know I sure have my own style.
What is your opinion of Nollywood?
For me, I will say right now that Nollywood is doing very well and if I am to rate them they come after Hollywood given that we have got talents and good concepts. In terms of picture quality, they have improved tremendously showing that a lot is happening. Also the perception that our films are always predictable is changing though there are still some scripts that make you laugh.
What roles do you like?
I like storylines that are not the normal everyday thing but challenging.
What are the most unpleasant moments in your life?
The most difficult moment in my life was when I had an accommodation problem. I just finished from the university and needed a place to say to attend acting school. It was then I knew that we could only trust God, because the people I called my friends showed their true colour. They turned their back on me and only very few of them were nice during the period.
Another sad moment was when I lost my dear friend. After seeing her off the last time she visited me, I never saw her again. She died.
Tell us about your growing up and education
I grew up in so many environments , because my dad worked with the Federal Airports Authority, so he was always on transfer. I come from a family of five and I'm a dedicated Christian. I had my primary education in Port Harcourt and secondary education in Abuja and then tertiary education in Port Harcourt.
I thank God for where I am today, because it is all by His Grace. God made my nomination for the award possible and it has really spurred me into action. I have a lot to accomplish and even if I am married today and my husband wants me to quit this job, I will let him know how much I'm attached to it. I believe that if he loves me, he should seek for the things that give me happiness but if he insists, then I will become a movie producer.
What is the closest shave you have had with death?
My closest shave with death was when I had an accident in a car with some friends. We were returning from a friend's birthday party and we didn't know the driver was drunk. The car somersaulted, but I thank God that nobody died.
What lesson(s) have you learnt in your life?
Life has taught me to be generous and help when I'm in a good position ,because we live in a very small world where what goes around comes around. Life is so deep and I have come to realize God really exists. He watches over us every time.
What has the industry taught you?
The industry has taught me to be humble . Basically there are certain things that people do and they get on your nerves, but you just have to control yourself and overlook them. If you don't, then it actually means that you don't want to work. So those are some of the challenges.