DON'T DRAG ME INTO COURT MATTER, OBI WARNS GROUP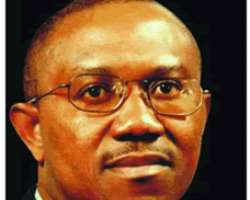 Governor Peter Obi of Anambra State has reacted to a paid advertorial in several national dailies purporting that he, as the chief security officer of Anambra State, has been adamant and unconcerned about the imbroglio between Nnewi-based businessmen, Ogbuawa and Innoson.
In a press statement, signed by the chief press secretary to the governor, Mr. Mike Udah, Governor Obi wondered why he should intervene in a matter pending in court, being a man who believes in the rule of law and due process.
The governor said that the allegations and insinuations that portrayed him as a sadist was uncalled for and did not respect the office of the governor of a state.
The statement read in part: 'The questions, which immediately arise from the unwarranted publication are: Who feels uneasy and annoyed on account of Governor Obi's alleged silence on this matter? How should the governor have intervened in a matter that is before a court of law, given the doctrine of separation of powers among the executive, the legislature and the judiciary? Should Governor Obi have stopped the court from hearing the matter already pending before it? Or should he have stopped the Nigeria Police from investigating a matter it is statutorily empowered by the Police Act to handle?'
The governor wondered how any reasonable person or group could have ascribed sadism to failure to intervene, questioning the motive of the people behind the advertorial and what the authors wanted to achieve.
He said that a group, which attaches conscience to its name, should not be so unconscientious as to come up with 'such baseless, illogical and unwarranted allegations against a governor who does not hurt a fly.'
The statement warned the group that placed the advertorial to desist from dragging the governor's name into a matter, which was being handled by appropriate agencies and arms of government statutorily authorised to do so.