WHY S'WEST MUST WORK FOR JONATHAN – DANIEL, AGAGU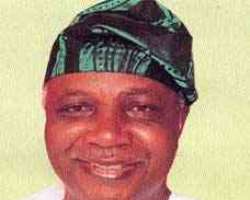 Former governor of Ondo State, Dr. Olusegun Agagu yesterday gave reasons why the South-west geo-political zone should support the presidential ambition of Dr. Goodluck Jonathan saying he is the best among others.
Agagu's position came just as the Ogun State Governor, Otunba Gbenga Daniel in his capacity as the coordinator, South-west zone of the Goodluck Jonathan for President Campaign Council, said the geo-political zone would work assiduously to ensure the emergence of Jonathan as the Peoples Democratic Party (PDP) candidate at the party's primaries.
The duo of Agagu and Daniel spoke yesterday during the stakeholders meeting of the campaign which held at the Valley View Auditorium, Government House, Abeokuta, Ogun State capital. According to Agagu, the zone stood to benefit a lot from the emergence of the former governor of Bayelsa State than any of the presidential aspirants in the country.
His words: 'As the people of the South-west, we stand at the threshhold of history; we are participants in history to ensure the unfolding scenario in the country did not take us by surprise. Assessing the presidential aspirants, Agagu who lost to the incumbent Labour Party's gubernatorial candidate in Ondo State after a protracted legal tussle said: 'Jonathan is coming with a clean slate.
''No previous allegiance could hinder him like what we know of others that we know they have some things in the past that can work against them, but Jonathan is coming with a clean slate. We should work with him for the progress of our dear country.'
He noted that 'although the South-west could not produce the president in the next political dispensation, we must be pro-active. It is also quite unlikely, not impossible that anybody from the South-west in the coming election can be vice president.'
Continuing, Daniel said: 'Which means that if we sit together as a people and begin to support a president and a vice president that does not come form the South-west, we cannot be said to have sold our people, but it means that we are being strategic, we are being pro-active and we are trying to be part of history. That, I think, is our major challenge.'
'Unless in the past, there is a tremendous change in the way politics is being played in the country. Probably today unlike what it was about 10 years ago when five to 10 per cent of the people tell us the direction of politics, it has reversed. Today, 90 per cent of our people are playing active politics.
'It is indeed a challenge that the formular of winning election has to change and must change and has changed. Because our people have become political animals, you see the kind of friction that is not known in the political history of our country is going on today in Nigeria. 'There is virtually no state where there is not one friction or the other; one group or the other even in the same political party. Part of what this kind of a meeting would achieve is an opportunity for interaction.
'Basically, therefore, we must ensure that we are not just spectators, but participants in history. To become participants in history, definitely, we have to be part of history. What we are doing here today (yesterday) is to ensure that the unfolding scenario is favourable to us.' Daniel lamented that about two months, some people had pitched him where he did not belong. 'A month or two months, some people would have sworn that I would not accept this job (coordinator) because people have already decided to put me somewhere without even talking to me.
'It is true that people have friends, you can't fault somebody who has been in the political environment for decades not to have friends, but we must not just because of an association which you can't predict begin to straight-jacket people.
'Somebody you think may be somewhere yesterday, if we play the right game, sing the right tune and say the right work may be one of the most active in this project. In other words, Saul can be Paul. So don't let us push anybody away on account of social interaction and social friendship.'