PAN, TOYOTA, STALLION, SUZUKI FOR LAGOS MOTOR FAIR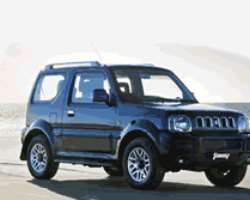 •Suzuki
If the interest shown so far in next month's Lagos Motor Fair is anything to go by, then the auto exhibition to be a huge success. Checks at the Yaba, Lagos office of the organizers show that many of the leading auto brands in the Nigerian auto market will be paraded by their promoters when the fair opens at the Tafawa Balewa Square, Onikan, on October 16. The show is scheduled to end nine days later, on October 24.
Some of the reputable companies who will be at the fair are PAN Nigeria, Toyota Nigeria Limited Emel Automobiles, C&I Motors (Suzuki), Stallion Motors, SpecAutos Ltd, Mobil, JinCheng Group and Frajend Investment Nigeria Ltd. The long list of would-be participants has helped to accelerate the tempo of preparatory activities and the optimism at the office of BKG Exhibitions Limited, the fair organizers.
'These companies are resolved to keep faith with their potential and existing customers as they have packaged series of offers ranging from budget automobiles, spare part, accessories; to good pricing, special fair rebates and promotions, responsive customer care services and lots of supporting benefits for their customers so as to keep on driving the car on their dream. All these they promised to unveil at the show ground', disclosed Mr. Ifeanyichukwu Agwu, Managing Director of BKG Exhibitions.
PAN Nigeria will be storming the show with 307 Sedan Jubilee — the flagship it designed to commemorate Nigeria's 50th independence anniversary. Other vehicles to be displayed by PAN include ambulances, buses and cars. Toyota will be showcasing the likes of its new generation of cars, SUV's, light-duty trucks, buses and genuine Toyota spare parts.
From the stable of the Stallion Group will be models of Honda, Skoda, Volkswagen, Hyundai, Mahindra, Audi and Porsche. C&I Motors, the franchise holder of Suzuki brand plans to showcase the legendary Grand Vitara, sedans and the class-beating APV..
Coming with heavy, medium and light trucks and buses, is Specauto, which will be parading models of Forland products. Commenting on the line-up, the General Manager, Mr. Austin Okon, said: 'We are going to show a highly visible presence at the Fair and we have packaged lots of incentives for visitors to our stand that will make them relish doing so for a long time.'
However, Emel Automobile will parade variants of Lifan and BAW cars, buses, trucks and parts
The motorcycles are staging a come-back to the Lagos Motor Fair with JinCheng West Africa and Frajend Investment Nigeria Limited leading the pack as they showcase models of the two-wheelers, automobile engines, out-board engines, and genuine spare parts. Mobil Oil will be exhibiting the Mobil NO 1 lubricant and allied products.
According to the organizers, in addition to mere display of these products, visitors shall be thrilled with lots of fun. ''They shall see and feel the power and performance of the automotive sector as they gather with the participants to 'drive the abundant opportunities that abound in the Nigerian auto sector'. Of course, there shall be games, gift splash and many more. This year's show is not all about cars; there will be road shows, stunts-driving and most importantly, more than 90 per cent of stakeholders in the automobile industry along with trade visitors, are expected at the prestigious motor show, a statement from the organizers stated'., Agwu said.