SUPPORT NDDC CREDIT ENTERPRENEURIAL SCHEME, UGWOHA URGES STAKEHOLDERS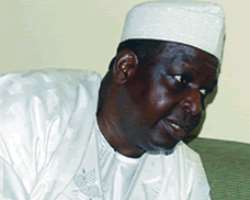 • Runsewe
The Managing Director/CEO of the Niger Delta Development Commission (NDDC), Mr. Chibuzor Ugwoha, has called on stakeholders, particularly banks, community leaders and consultants to support the commission's commitment to end the cycle of poverty in the Niger Delta region. Mr Ugwoha made the call on Wednesday in Port Harcourt during the official flag-off ceremony of the first phase of NDDC Credit Entrepreneurial Development Scheme.
He said: 'The scheme is one of the major milestones in the effort to confront grave poverty and attendant economic difficulties that have for long besieged and hindered the capacity of the people to economic development.'
The NDDC boss said the credit scheme was designed and targeted at the low income bracket, especially those that NDDC had trained in various skills acquisition programmes, to provide empowerment and help facilitate regional development.
Mr Ugwoha disclosed that 10, 252 youths, drawn from the nine constituent states of NDDC had so far been trained in welding fabrication, computer and information technology, auto-mechanics, electrical installations, GSM repairs, fashion designing, catering and other home management skills. He explained that the decision of NDDC to provide credit facility to beneficiaries was based on the understanding that they would form the vanguard of NDDC's effort to prop up the development of small and medium enterprises in the region.
Mr Ugwoha said: 'This scheme is structured in line with the trust fund model of credit administration recommended by the Central Bank of Nigeria (CBN). This model involves a tripartite partnership between the CBN, commercial banks and funding agency, in this case NDDC.' He said the NDDC, under the model, had already provided N500 million for the take off of the scheme in the nine states of the region, noting that 'a total of 1,900 youths will benefit during the pilot phase.'
Mr Ugwoha, who assured that more youths would be accommodated in second batch after approval of the commission's 2010 budget, urged the beneficiaries to see the scheme as window of opportunity for the unemployed and less privileged.
The NDDC boss disclosed that NDDC would soon embark on oil industry specific training in Nigeria and abroad, as that was in line with the vision of President Goodluck Jonathan to facilitate sustainable national development.