JEGA: NIGERIAN LEADERS MOST CORRUPT IN THE WORLD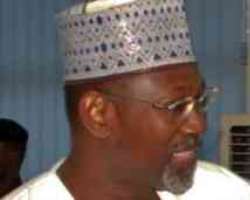 INEC Boss, Professor Attahiru Jega
Those in various leadership positions in the country are the most corrupt in the world, Chairman of the Independent National Electoral Commission (INEC), Professor Attahiru Jega, has said. Delivering a paper on credible leadership at a public lecture organised by the ECKANKAR yesterday, Jega said: 'There is perhaps no other country in the world where power corrupts and absolute power corrupts absolutely as in Nigeria. Our consistent or persistent ranking on the global corruption index testifies to this.'
He also said: 'If the truth is to be told, with very few exceptions, our crop of leaders have essentially been self-serving rulers, some even despots and not leaders in the true sense of the word.
'They have generally lacked vision, focus and selflessness and even enlightened self-interest. Many in leadership positions are unimaginably corrupt, they are greedy, they are vindictive, they are reckless and in many fundamental respects, senseless. Virtually whoever has access to power attempts to abuse it…'
Jega said there is absence of transparency in the manner which leaders govern the country.
'Many Nigerian public officials, whether elected or appointed, have tended to exude not only power, but also corruption, with impunity. This is manifest in the way they walk, talk, dress and generally conduct themselves.'
He tasked Nigerians on the need to ease corrupt leaders out of the system to evolve credible leadership for development of the country.
He said: 'All of our country's ills, trials and tribulations, both politically and socio-economically, can be squarely attributed to lack of transparency and accountability and the corruption that these have engendered.'
But reacting to Jega's presentation, Minister of Women Affairs, Iyom Josephine Anenih, said the poor leadership in the country is a reflection of bad citizenry.
According to her, 'there is no leader in Nigeria today that is not under pressure to steal to satisfy greedy relatives and friends. How can we have credible leaders without credible citizenry? The only way we can have credible leaders is to have credible followers who will not collect money to vote for bad leaders.'
Jega disagreed with the minister's position saying, 'to me the challenge of leadership is to do the right thing even if it is unpopular. I cannot see the basis for a leader to steal money to satisfy the followers. It is not right to succumb to such pressure. You may become unpopular, you may not be elected again, but you must ensure that the right things are done.'
He said there is need for faith- based organisations to remain neutral on political issues and to sustain inter-faith dialogue in the society.