IMOKE REJECTS N20M CAMPAIGN DONATION FUND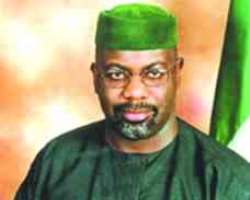 •Imoke
Governor Liyel Imoke has rejected outright a draft cheque of N20 million donated by a Cross River Northern Senatorial aspirant, Prof. Ben Ayade. The said amount was to aid Senator Imoke in his second term campaign bid. However, Daily Sun investigations revealed that the rejection of such a whopping sum of money was as a result of petitions by political opponents to the Independent National Electoral Commission (INEC), Economic and Financial Crimes Commission (EFCC) and the national secretariat of the PDP accusing the Governor Imoke of running foul of new electoral law.
The Cross River Northern Coalition Forum for Senator Liyel Imoke's Second Term, two weeks ago in a public function unveiled the campaign logo of the incumbent governor where eminent politicians of the state northern power bloc converged to rally support for the re-election bid.
Prof. Ayade, who addressed the gathering, comprising of Peoples Democratic Party (PDP) stalwarts and members at the Channel View Hotels, Calabar, had unveiled the campaign logo with the sum of N20-million to the admiration of the audience.
'The philosophy of the existence of politics with ethics is derived from Imoke's principles in good governance and on behalf of myself, Yala, Obanliku, Bekwara, Ogoja and Obudu local governments, I unveil the campaign logo with a sum of N20 million' the aspirant asserted.
But when the forum proceeded to the Government House few days after to present the communiqué issued at the end of the function to Senator Liyel Imoke, the senatorial aspirant was said to have been stunned when the governor rejected the draft cheque of N20-million.
Government House Sources told Daily Sun that the governor's rejection of the cheque might not be unconnected with the Electoral Act 2010, which dwells on the limitations of election expenses.
Section 9 of the Act says, 'No individual or other entity shall donate more than NI million to any candidate and no corporate body shall donate more than N5 million to a candidate. Section 10 implies that a candidate or anybody that knowingly acts in contravention of this section commits an offence and on conviction shall be liable to Sub Section A: in the case of presidential election to a maximum of N1 million or imprisonment of 12 months.