COMPARATIVE DISCOURSE OF SHEKARAU AND JONATHAN PRESIDENTIL DECLARATIONS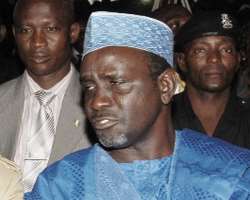 PHOTO: GOVERNOR OF KANO STATE AND ANPP PRESIDENTIAL ASPIRANT, DR IBRAHIM SHEKARAU.

At last, after months of tongue wagging and manipulations, President Ebele Goodluck Jonathan has finally made open declaration, against his party zoning system, to contest for 2011 Presidential election, which took place on Saturday, 18th of this month at the Eagle Square, Abuja. Earlier, the Governor of Kano State, Malam (Dr) Ibrahim Shekarau, Sardaunan Kano had also made his open declaration to seek his party nomination as its candidate for the forthcoming presidential election, which took place on August 5 last month at the International world Conference centre, Abuja.
Dr. Goodluck Jonathan is the President of the Federal Republic of Nigeria by virtue of the death of his former Boss, the late Alhaji Umar Musa Yar'adua who died in May this year. Malam (Dr) Ibrahim Shekarau is the two term Executive Governor of the most populous state in Nigeria, Kano who will be completing his eight years in office by May 29, 2011. While Jonathan is seeking nomination from the national ruling party, PDP, Shekarau is seeking presidential nomination from the opposition party, ANPP.
Shekarau is the first person to declare his presidential aspiration because he does not believe in hide and seek game where national issues are concerned. Jonathan on the other hand believes that there is always the need for political intrigues and deception, which made him to delay his intention after months of keeping the nation in suspense that seriously affected governance as unnecessary debates were allowed for people to be at each others throat on whether or not he was going to declare to contest the 2011 presidential election.
Jonathan's Chairman of the occasion during the public declaration is a businessman in the person of Alhaji Bamanga Tukur who spoke from the business point of view because PDP is always business as usual. But, Shekarau's Chairman of the occasion during his declaration is a well versatile political guru and a man who has been in government of the federation that knows the nitty-gritty of the political and economic sagacity of the country, which means when Shekarau becomes President of Nigeria, he will have the right people who know the problem of the country pretty well and will have no problem giving solution to such problems.
The people that attended Jonathan presidential declaration are mostly from the government especially some governors, ministers, senators, house of reps, etc who are scared that if they are not at the eagle square to be seen on the stage, they may not have second term in office or be given what they want. But, Shekarau did not really worry about who attended or not attended his public declaration because he is a man that has mission and vision for the country – a country that has been in miasma of hopelessness. Closely related to this is the issue of roadmap, which Jonathan refused to unfold to us in the name of not making promises and fulfilling nothing as his government has showcased. But Shekarau on the other hand is of the strong belief that it is when there is syllabus that students could be examined to determine their performance if truth is to be told. This is why he clearly spelt out his roadmap upon which he will expect any body to judge his performance if voted as President in 2011 election. Unfortunately, in Jonathan's case, he said that he would promise less to do more. This assertion of an aspiring leader is not acceptable because Nigerians deserve to be told on the mission and vision of any leader who wants to preside over the affairs of the country. A leader who shies away from promising his citizens is certainly not ready to do any thing and would end up being judged on nothing. This is why Shekarau is more honest in his mission and vision for the country.
For those who had the opportunity to watch the live coverage of Jonathan and Shekarau presidential declaration on NTA and AIT respectively will testify to the fact that Shekarau has more people that witnessed his declaration of aspiration than that of Jonathan whose audience is mainly of one sided region as against the tumultuous people that came from all segments of Nigerians for Shekarau. Still, unlike Shekarau, Jonathan declaration forget to respect the country's national anthem from the beginning because the programme had almost gone half way before a reminder came from Master of the Ceremony for everyone to stand up for the national anthem of the country. How can we entrust our country in the hand of leader that relegates its national pride to the background beats one's imagination.
We are however happy to hear from Jonathan Zwingina who said at the opening prayer during the Jonathan's declaration ceremony that, "God should ensure PDP win and give us leaders that do not steal." By this statement, the big irony is that the Zwingina wanted us to cast our mind to the purchase of aircraft at the cost of N24 billion by the presidency at a time thousands of our able bodied youths are jobless. He wanted us to see how billions of naira was budgeted for the celebration of a country that is still suffering from neocolonialism. He wanted us to see how the facilities meant for all Nigerians like NTA and others are being manipulated by one single interest and yet we are talking about free, fair and credible election. Zwingina who offered the prayer wanted us to borrow leaf from the alleged stolen of N104 million by an erstwhile PDP leader presently standing trial. Indeed, these are the kind of leaders he might be praying against not to succeed again in Nigeria. What other judgment can we make after hearing from the horse's mouth than to join the chorus to say ameeeeeen?
This is not to talk about the fact that one of the online readers who made comment about Jonathan intent declaration in the Nigeria Village Square (NVS) revealed in the Village Square that Nigeria's foreign reserve before the coming of Yar'adua and Jonathan as President and Vice President respectively stood at $20 billion but today, only $500 million remain. According to his rhetorical question, what happened to $19.5 billion? If this type of shortage continues, what do Nigerians expect by 2011? In fact, what is the credibility of such personalities as Ayim Pius Ayim, Olusegun Agagu, Tony Anineh, Josephine Anineh, Barnabas Gemade, etc that Jonathan used in intimidating Nigerians during his public declaration? We are happy to hear from the Director General of Jonathan Campaign, Ambassador Dalhatu Tafida that, Jonathan is not the only humble leader because he is just "one of the most humble leaders." To the rest of Nigerians, we have reason to say that, "Shekarau is the most humble presidential aspirants in the country" without mincing words or any form of stammering.
The assertion that Mr. Jonathan holds a PHD and therefore has "knowledge and experience" is nothing but a mockery of Jonathan's presidential aspiration. Was the late General Murtala Mohammed a PHD holder when he turned around the country with so much progressive changes within six month? In spite of the PHD nomenclature of Jonathan, we have not heard any special discovery from him as a philosopher. Most of the books our children read in schools today are written by scholars without PHD. So, where did such scholars get their knowledge and experience to make up their wonderful books? On the part of Malam (Dr) Ibrahim Shekarau, he has impacted so wonderfully doses of knowledge and experience as teacher on thousands of students who are today have turned to be good citizens in the society. So, what are the handlers of Jonathan's presidency talking about of being a PHD holder? We should excuse these people because they are merely rented to shout all sorts of things for Jonathan since they have lost touch with socio-economic and political issues of the country at the moment.
In fact, all the so called personalities that attended Jonathan's declaration of intent for presidency last Saturday such as Bala Mohammed of FCT, Barnabas Gemade, Joseph Wayas, Don Etiebet, Ima Niboro, Ojo Madueke, Jery Gana, Matthew Tawo Mbu (former foreign minister) Pius Anyim (former senate president), Jonathan Zwingina (former Senator from Adamawa) Ibrahim Mantu (former Deputy Senate President) and Mohammed Abba Aji are the same old leaders that have caused a lot of devastation to this country, Nigeria. They brought us to the unfortunate situation we are today in the country. They are staging a come back to cash on Jonathan inexperience so that they can milk the country dry again. Why should we allow these recycled leaders again to decide for us? We must have the courage to say No!
In the Jonathan declaration of intent for 2011 presidential race, which he earlier posted on his face book, he said that "we made no promise to revamp the textile industry. We delivered a bailout package worth 150 billion naira that is being dispensed as I write." But he failed to realize the fact that the problem of textile is not the problem of sharing money but making the industry to be competitive through enabling environment. What happened if this money is shared among the ailing textile and yet, there is no stable power, no affordable Low Pour Oil (LPO) otherwise popularly known as black oil and smuggling continues unabated, definitely, the textiles will not survive and they have ever remained in a cooler. This is why the so called 150 billion naira textile bailout is nothing but A BIG WASTE and cannot in any way solve the horrendous devastation of the textile industry. Why then is somebody deceiving us just to earn our votes? In any case, how many of the textiles have received the bailout and is the bailout not more of a farce than reality?
Indeed, we have heard from Jonathan and the kind of people that are behind him. We have also seen the type of people he rented for his 18th September declaration through our NTA. But we are not convinced beyond reasonable doubt that Jonathan is prepared to liberate the country from the miasma of hopelessness epitomized by PDP. He is not the only one that scores low in our genuine assessment. We are also not comfortable with the likes of Babangida, Atiku, Gusau, Tofa and Saraki who have variously held this country to ransom. The alternative therefore lies with Malam (Dr) Ibrahim Shekarau, the Sardaunan Kano and the two terms jinx breaker in the history of Kano politics. Sentiment aside, this man of impeccable quality has silently moved Kano from the nadir of hopelessness to limelight of recognition.
We believe that Shekarau's roadmap he unraveled during his presidential declaration is enough to take us to the Promised Land. We know he has no money and 'influence' to rig election but we just pray that God in His infinite mercy allow his party to pick him as a presidential candidate of the party. If this happens, he will confront the monster called PDP that has been enslaving our country in the last eleven years. As a result of greed, avarice, desperation, unhealthy competition, capitalistic despot, injustice, corruption and insincerity that have permeated the air of insecurity in the country, Nigerians have lost confidence in PDP. ANPP through Malam (Dr) Ibrahim Shekarau is therefore the alternative for viable polity and economic progress. This is why Shekarau declaration of aspiration for 2011 Presidential race is more realistic and reliable than any one else one should think of.
Saka Raji Audu writes from Kano and can be reached on his email: [email protected]
Disclaimer:

"The views/contents expressed in this article are the sole responsibility of the author(s) and do not necessarily reflect those of The Nigerian Voice. The Nigerian Voice will not be responsible or liable for any inaccurate or incorrect statements contained in this article."
Articles by thewillnigeria.com