2011: Ribadu Goes With ACN; Saraki Submits Presidential Form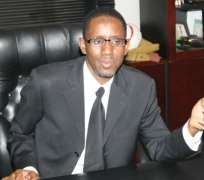 San Francisco, Sept 20, (THEWILL) – Mr. Nuhu Ribadu today said he would vie for the presidency on the platform of the Action Congress of Nigeria (ACN).
The former Chairman of the Economic and Financial Crimes Commission, EFCC, said he settled for the political party because of the impressive leadership its elected officials have delivered in their various constituencies. He cited the administrations of Comrade Adam Oshiomhome (EDO) and Babatunde Fashola (Lagos). He also commended the Segun Oni (Ondo) and Peter Obi (Anambra) for good governance.
"I've had a wide consultation around and across the country. I've had time and chance for me to look at all the political parties critically. I have decided as a starting point to go with a new party called ACN. The reason I went in that direction is simple, because as a fresh part of who is going to get in, it's only right for you and fair to observe and judge on the basis of what is on the ground and what is existing.
"Today, I am comfortable with what is happening in Lagos State. The leadership there has shown that the possibility of good governance is there. Today, I am very, very happy with what is happening in Edo State. It is also an example of good governance, transparency and accountability, a government that is delivering.
"I am very, very happy with even what is happening in Ondo State; I'm pleased with what is going on in Anambra State. And, therefore, that has helped me to go the direction that I am going," Ribadu stated.
"I want to see the possibility of bringing good governance to the Federal Government of Nigeria. And the examples of these gentlemen encouraged me to go in that direction, and the first one, like I said, is the ACN.
"My intention is if the registration of new members of the new party starts, I do intend to go to my own ward in Yola and pick the card and get registered as a member of the political party. And my prayer, my hope, is that all the progressives, all those who are doing well for our own country, all those with this massive dream of a better Nigeria will come together and move forward with the intention of saving our own country.
"There is a bigger picture ahead of us, I do intend to capture it. My belief is that there is need for a party that is going to be national, there is need for a party that is going to give Nigerians a chance for democracy to work, an alternative to what we have today, and I see the possibility for all progressives, good elements, of course, even people in PDP can come in to give this country a fresh start, to give hope. I see the possibility of a new Nigeria. A new Nigeria is very, very possible," Ribadu added.
Meanwhile, Kwara State Governor, Dr Bukola Saraki today at the PDP headquarters in Abuja submitted his nomination form for the party's presidential ticket.
Saraki, who was one of the politicians who worked against the emergence of President Goodluck as Acting President when the late Umaru Yar'Adua was critically ill in Saudi Arabia said, his chances are very bright.
"I come here to submit my expression of interest and nomination form to contest the presidential election on the platform of PDP. I think it is a historic moment that after 50 years of independence, we are about to start another 50 years. We believe that some of us still have the energy, resourcefulness, capacity, ability and knowledge that we can transform Nigeria and make it more effective," the governor, who met with PDP Chairman, Dr. Okwesilieze Nwodo said.
"It is time for our generation to step up and move Nigeria forward. I believe I have what it takes to do that and I have started the journey. My chances are very bright because Nigeria will decide who has the best policies. This is about what each of us can deliver to Nigerians. I am talking of what I can do for Nigerians. I have done things in the period of seven years as governor to transform Kwara State and make people to be proud and I believe I can do the same for Nigeria," Bukola Saraki stated.
Saraki will have to contend with strong candidates like incumbent President Goodluck Jonathan; Aliyu Gusau Mohammed; Ibrahim Babangida and Atiku Abubakar at the PDP primaries.