2011: ACF ACCUSES JONATHAN OF USING STATE RESOURCES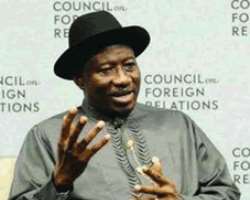 The northern socio-cultural organization, Arewa Consultative Forum (ACF) has accused President Goodluck Jonathan of using the country's resources to butter his political bread and forcing state governors to back his 2011 presidential aspiration.
The Forum argued that the president should have excused himself from contesting in next year's poll, to pave way for the much canvassed zoning and rotational arrangement by the ruling Peoples Democratic Party (PDP). ACF added that it was morally wrong for Jonathan to have decided to partake in the 2011 contest, despite what it called 'the odds against him.'
President Jonathan had last Saturday in Abuja formally declared publicly his intention to contest the nation's presidency on the platform of the ruling People's Democratic Party. But the ACF, in an SMS message sent to newsmen yesterday in Kaduna by its National Publicity Secretary, Mr. Anthony Sani, argued that President Jonathan's interest in the 2011 poll was capable of causing division within the Nigerian state.
It, however, said the Nigerian electorate should be left to decide the fate of President Jonathan regarding his decision to take a shot at the nation's presidency in next year's election. The Forum said:
'We agree with former governor Balarabe Musa that President Jonathan's decision to run for president in 2011 has disappointed many of us who stood by him during the ailment of President Yar'Adua to become acting president, including hankering for him to become president way back before his principal passed on.
'Nobody expected Jonathan to contest in view of the constitutional provisions of his own party on rotation and zoning as well as the gentleman agreement by a party that sired him, especially when regard is paid to the fact that these breaches border on national values of honour, trust, social justice, equity, fairness, common decency and sense of commitment.'