Mark Roots For Jonathan/Sambo Ticket Says It Remains the Best Option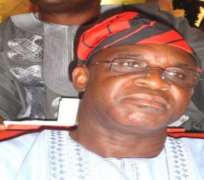 ABUJA, Sept 19, (THEWILL) - President of the Senate, Senator David Mark has effectively commenced campaign for a Jonathan/Sambo ticket, saying, their candidature presents the 'best option for the nation.'
Mark who spoke in Lokoja at the weekend said he has examined the options ahead of the 2011 general elections and came to the conclusion that President Goodluck Jonathan and Namadi Sambo ticket present Nigerians with the best.
According to a press statement by his Chief Press Secretary, Mr. Paul Mumeh, he made the declaration when he led members of the Alumni Association of Nigerian Defence Academy (NDA) Regular Course 3 on a courtesy call on Governor Ibrahim Idris of Kogi State.
The duo he said possess the right character, integrity and intelligence to lead Nigeria out of the woods.
He urged Nigerians to invest their votes on Jonathan/Sambo ticket in order to actualize the vision and programmes to uplift Nigeria from the economic doldrums as outlined in their manifesto.
Senator Mark maintained that the National Assembly has put necessary measures through the Electoral Act 2010 to guarantee free, fair and credible elections in 2011.
"In the new Electoral Act 2010, a level playing field has been provided for all candidates believing that the outcome of the polls would meet the yearnings and aspirations of all stakeholders as well as international community", he said.
On his colleagues, (NDA Course 3) Senator Mark recalled their unquantifiable services and commitment to nationhood, saying, "In or out of government, we have continued to serve our fatherland creditably and we will continue to do so in the years ahead because this is our country and we have no other to call our own".
Earlier in the day, the Senate President was conferred with chieftaincy title of 'Dan-Isah' of Lokoja (meaning the Special Adviser to the Emirate Council of Lokoja) by the Maigari of Lokoja, Alhaji Moh'd Kabir Maikarfi III.
At the ceremony, Senator Mark in response to the request by the monarch to intervene in the abandoned dredging of River Niger, dualisation of Abuja-Lokoja road and resuscitation of the Lokoja Port, Mark assured that government would give priority attention to the projects and see to their completion.
The President of the Senate was optimistic that President Goodluck Jonathan as a listening leader would not see the suffering of the people and look the other way.
Governor Ibrahim Idris of Kogi State said he was proud to be associated with the Alumni Association of NDA Course 3 which has produced eminent Nigerians including the Senate President, former Chief of General Staff, Mike Akhigbe, two former Chiefs of Army Staff, General Alwali Kazir, Victor Malu, Admiral Festus Porbeni, Senator Tunde Ogbeha among others.
Comrade Governor Adams Oshiomole of Edo State who was the Special Guest of Honour at the Annual General Meeting of the NDA, Regular Course 3 held in Lokoja, Kogi State said the association which continued to exist even after 40 years of their graduation is one that should be emulated by all.