WE NEED A B737 LEVEL D SIMULATOR– CAPT ADEBAYO ARABA, RECTOR/CHIEF EXECUTIVE, NCAT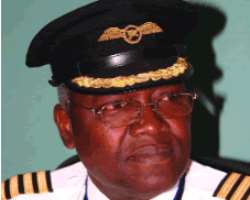 The Nigerian College of Aviation Technology (NCAT), Zaria, was established in 1964, to train and buoy the manpower needs of the nation's aviation sector. As at that time, it was about the only aviation institution on the continent.
Unfortunately and as it is with most government establishments, the college, at some point, became lame and unable to drive the vision and mission for which it was established. No thanks to poor management practices of past helmsmen of the college.
The unproductive period lasted for about a decade, and this lull naturally incubated rot and other anomalies that hatched in the minds of the workers, making them develop lackadaisical attitude to work.
The trainee student pilots, engineers, air traffic controllers and other professionals could not graduate within the 'dead' period.
The government, poised to revamp the college, appointed Capt Adebayo Araba as the Rector/Chief Executive in 2007. Unfortunately for the experienced pilot, examiner and instructor, what greeted him on resumption of duties were workers of varying interests. Some had lofty visions and were prepared to achieve same, while scores of others preferred the school be literally grounded, as they fed fat from the rot.
Soon, Araba came to realize that the mentality of the average civil servant in any government establishment is to put in minimum efforts and expect to reap bountifully, by hook or crook. With that despicable behaviour, he introduced a lot of new developments like punctuality to work and meeting ethical standards. Obviously, a host of the staff, who preferred the old order, fought, and are still fighting the new change.
In an exclusive chat with Daily Sun in Zaria, Araba said they oftentimes blackmailed him, just to remain in their old shell, but he was poised to make a difference. Today, the college that went 'dead' for several years when no pilot or engineer could graduate, is now back to its feet. Araba described NCAT as the busiest airport in Nigeria, judging from the volume of training going on there on a daily basis.
The rector has also assured Nigerians and the aviation sector, in particular, that plans were afoot to commence the much-needed helicopter training at the college. Having acquired a new trainer airplane, the TBM 850 and the multimedia simulator, Araba said the time has come for the institution to have a B737 Level D simulator since that is what most of the domestic operators are flying.
He said the simulator will simply ensure student pilots moved from the college straight into the flight line of airlines without having to go for conversion courses on the same airplane.
He also spoke on other issues.
Excerpts:
NCAT focus today
We're focused on excellent training and manpower development in general. With that, I mean we do all aspects of aviation training. We want to enhance the training. When we talk of global trend in training, I think this college is well abreast now. We've a new airplane, the TBM 850 for training. We also got another simulator. It's in Lagos at the moment and it will soon be shipped to Zaria .
It came in on the 27th July and it's going through all the formalities. By the time the simulator is here, the training we're going to be doing in the flying school will be seven days a week and 24 hours a day. It will be continuous. We'll break the training into two. Some will be training from the morning till evening while another set will be training from evening till the following morning. 24 hours training is our goal and we're going to achieve that. Give it another month or two. That's our goal.
Helicopter training
We should start that hopefully before the close of the year. We've contacted the manufacturers. We've made up our mind, we're going to buy Bell . We've written to Bell Helicopters and we're waiting for their response. They asked us to give them two more weeks for them to itemize and package all we want properly.
More trainer airplanes
The ones we need is the airplane for primary training. If we can get the TB 850, that will be wonderful.
We're also looking at Cessna. When I was in this school several years ago, we operated the Cessna. Later we changed to Socata. But we want to go back to the Cessna because the new ones carry the distiller engines. With that it can use the Jet A1 or diesel. This idea of using AVGAS is completely out of it. In fact, I would not subscribe to anything using the AVGAS. It's just to expensive.
Avgas is a cartel business. It's either you join them or you forget about it. So, the best we can do now is to get it from Total Petroleum. It costs about N100,000 per drum and we consume between 25 to 30 drums everyday. But we're comfortable with the supply but we're not happy with the price. But like I said, it's a cartel business, you either join them or forget it.
Fleet renewal
That is what we're doing gradually. We cannot continue to run on Avgas. We just got one trainer airplane that uses Jet A1 and we will continue with that. It is a gradual process. The TBM850 runs on Jet A1 and as such we've forgotten about Jet A1 completely. By the time we have done complete fleet renewal, we should be very comfortable.
Types of airplanes flown
When I was flying commercial airplanes, I was on the wide body and I was also on the slim body. I've a command rating on the Airbus A310, I equally have a command rating on the B737s. I also flew the Fokker 28 and those are the three main jets I flew as a Captain.
As regards how managed to have flown three different aircraft, I didn't fly them at the same time. You go for trainings here and there. right now, I fly all the aeroplanes this college can boast of. If I have to go back to the airplanes I hitherto flew, all I need to do is go for is recurrency training, that's all.
Flying experience
I flew actively for about 30 years. I actually stopped in 2007. You also asked me the airlines I worked for and let me answer that. Since I left school, I've been working for government. Either in this college or Nigeria Airways. I worked in this college as an instructor, then Nigeria Airways as a pilot and examiner.
Becoming a pilot
Educationally, you've to be qualified. That is the very first thing. In this college, we lay emphasis in Physics and Maths. Once you've that coupled with some others; not Igbo, Hausa language, Arabic or CRK or Yoruba. The other subjects should be like Geography, Further Maths, Chemistry etc. Minimum is about 5 credits.
Renewing certificates
NCAT is a parastatal under the Aviation Ministry. The Ministry oversees NCAT while the NCAA regulates it. In other words, the safety oversight rests with the NCAA.
Challenges
There're lots of things we would want the government to do for us. But if we really look at it, we have a lot of B737s in this country now. We can assist these operators in training by having a 737 level D simulator in NCAT. That will go a long way and we would not even restrict the usage to Nigerian stakeholders alone but to other countries on the continent like we used to do in the past. Before now, many countries' nationals came here to pick up training.
We also want an improvement in the infrastructure like the runway. It's very important because by the time the training here gets to a stage, the facilities we have here will become inadequate. We want the airfield lights and other navigational aids like radar, ILS and others. Right now, we take our students to Kano or Kaduna for training.
When nothing was going on here, the radar here in Zaria was cannibalized and taken to service the one in Lagos .The ILS here was also removed to service the Abuja Airport and this may interest you; the VOR for the college was cannibalized for Abuja Airport and the frequency is still there, 1163. But you can't blame anybody because by the time they were removed, there was nothing going on here. They never expected that this college will get to the level it is today and that was why it was so easy to cannibalize.
However, the World Bank has promised to look into the ILS, VOR and airfield lighting challenge. They said they'll fix them for us and I'm very optimistic about that. Even now, we've lost our second runway to villagers' encroachment. I don't know how we're going to get it back. In fact the issue of encroachment is a major one because people are continuously building facilities very close to the school. We've written several letters to the Ministry and the Kaduna State government intimating them of this threat. The Emir here is also aware. We want something done urgently to check the encroachment.
Another challenge I also have is some of the staff here. They want to be paid for doing nothing. These are people who see government job as a cash cow and yet they do nothing to feed or cater for the cow. They have become mere petition writers but I'm undeterred. They don't want to embrace positive changes because they've clung tenaciously to the old order. For, me I'll make sure I carry out the mandate given to me here and anybody who is not in conformity with that will face disciplinary action.
Psychological/medical requirement of student pilots
Well, I'm not a medical doctor. We have AMEs and they know what they should be looking out for in anybody aspiring to be a pilot. I went through it as well. As a trainee pilot, during the medicals, some people were asked to go and what they saw in them that made them to send them out, I can't say. That was none of my business.
Aviation management school
It was established for people like you. The level we're now in aviation in Nigeria , we should have journalists reporting properly. It's sad that at this level, we still have people reporting things that are not necessary and causing unnecessary panic in the polity. Like the Minister said yesterday, there are things that should not be reported or at least reported just as they happened, but at times, they're blown out of proportion.
It's not good to scare people unnecessary. Aviation is very vital for this nation's development. We should encourage people to fly and want to come into the sector and not the other way round. And in NCAT, the Aviation Management School seeks to develop the manpower needed for the sector.
Getting patronage from foreign countries
That's a good question. We've been getting papers from foreign countries wanting their students to be trained in NCAT. They are aware we're back on our feet. Even now, we're having some Ghanaians here and two others from other countries like Zambia and Uganda or so.
But I'm optimistic that before the close of this year, the list will increase.
Sacking expatriates
That will be done naturally. It'll be done as we keep churning out pilots and other professionals to fill the manpower gap in the industry. You see, in aviation, there's not quick fix approach. It's got to be gradual. So, to get rid of the expatriates, you have to train your own people which is exactly what we're doing. A time will come; it'll be very visible that they don't have a place again in our industry. But until then, there's nothing we can do. There's no quick fix.
Welfare of instructors
Let me talk on behalf of the flying school. You see, the position we're now, if any instructor should decide to leave now, he cannot say because the salary is poor because what they're getting now is quite commensurate with what their counterparts are getting in the industry. Like I told you, if they decide to leave, it's not because of the salary, definitely something else, but not the salary at all.
Allegation of favouritism
That's a big lie. There is no favouritism in this school. The last time I was at the National Assembly, I made it clear before the legislators. You see, we've a specialized training here. If you say, you need a Flying Instructor and the only people with the license to do that job are from a particular area, you cannot say you're going to shut down because Federal Character is not being reflected. No, you cannot do that. It's a special area with people with specialized training. If I say I need an instructor, such a person must have a pilot's license and an instructor's license. If you don't have people with these, you can't say you're going to bring down the standards just to please certain geographical locations even when candidates from that area don't meet up. It's not possible.
But when it comes to the intake of students, we're quite mindful of the Federal Character. We normally send the papers out, they write the exams and we select the best candidate from each state. That is the more reason why each course has 36 students in there. Each student represents a state and that I can assure you. Nothing can be better than that when it comes to Federal Character.
Simply put, they've written the exams, the best candidate from each state is given the admission and that's it. Let me say this clearly, once they're in the college for the various programmes, we shut the on Federal Character. At that point, there's nothing like that. If they're able to meet up, so be it and if they can't, so be it as well.
Last year, we asked some students to leave. They passed the entrance exams quite well, but they fell short of the standards thereafter and we asked them to leave. You see, we have a standard here and we must have to protect it. Every school in the college has its own pass mark. So the rule is simple, meet up and stay or fall short and leave, period. No favouritism, no Federal Character at level. There's nothing to hide or manage. When you're not doing very well, you as a student will know. No fast rule about it. That's the procedure. We're talking about safety and security of human lives and property. The standards are high and we always maintain it at all times. It's been there over the years.
Training partnerships with airlines/states
In total fairness, the airlines are really sponsoring a lot of students in Zaria , most especially Arik. I think I can say categorically that we're getting support from various quarters. I can doff my hat for Arik Air. It is a mega carrier by all standards and it has been playing the role of godfather when we talk about the aviation industry. So the bulk of the students training here now are being sponsored by Arik. Likewise other airlines, Aero Contractors, Bristow Helicopters, and a host of others. They are really supporting when it comes to training for the sector.
Legacy
The legacy I would love to leave in NCAT is just to make sure that the position NCAT is as at today is much better than what it is going to be in the future. And with time, for them to be able to come shoulder high and compete with whatever that is obtainable anywhere in the world as a training institution.
Funding problems
I don't think we really have that problem. To be fair, the Federal Government has been very supportive and magnanimous in funding the school. They fund the college a 100 per cent. We're just comfortable. All we need to is work within the confines of our resources. More so, the college is witnessing an increase in patronage now when compared to some years back. We're back on our feet. Airlines, governors and other bodies sent students here for training.
About the new multimedia accident investigation simulator
You are not a stranger to what we have been doing at NCAT for the past 30 months. We just got the new multimedia accident investigation simulator. This simulator is now putting us on a high platform because NCAT is the only institution with this facility in the country and in the sub-region so to speak. So the idea of sending people abroad for this training is no more there. For instance, NIMET as an agency has no reason for sending people abroad for certain training. That has been taken care of by virtue of this simulator. For instance, for the RVR, which is the Runway Visual Range can easily be taught in the simulator.
The same thing for AWOS, which is Automated Weather Observation System and the Low Level Wind Shear alert system, too can be taught in there. More so, Weather Radar, Integration of weather data into the tower and the Automated Traffic Information System can be taught as well. It can also help in accident investigation. Just in case there's an accident and there is something they want to really confirm concerning instruments or components in an aeroplane, they can just bring it forth to the simulator and determine whether it was a fatigue or whatever.
So that is exactly what the simulator is meant for. So we have a whole range of functions this simulator can handle in the aviation sector and so with that, we're on a good platform. The only one that is similar to what we have now is the one in Vaisala in Europe. And what we have is even a better version than whatever Vaisala is having on ground there.
How and when it was acquired?
Well it is part of the safe tower project. And you won't believe it, this simulator got into this country about 5 years ago and it was just in the warehouse until I got to know about it. Then I met the Aviation Minister for the approval and that the simulator should be relocated to Zaria and we got the Minister's approval for that. And we got the approval for the installation as well. The installation of the equipment cost about 40 million naira. So the cost that simulator itself I wouldn't know.
Relaxation
I don't joke with that. I work from 7am till around 7pm and go home. After that, I hardly entertain visitors because I need to relax very well to get ready for the next day's activities. I read a lot as well to widen my horizon