IBB VISITS OJUKWU, I'M NOT AFRAID OF JONATHAN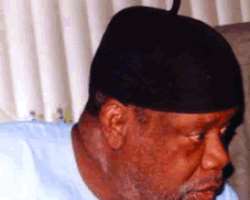 Ojukwu
Former military head of state, Ibrahim Babangida, at the weekend, visited former Biafran warlord, Dim Chukwuemeka Odimegwu-Ojukwu at his Enugu residence in what is seen as an attempt to woo the Igbo leader ahead of the presidential election.
Babangida whose private jet marked 5N-BLI arrived Akanu Ibiam Airport, Enugu, on Sunday afternoon thus became the first presidential aspirant to visit the Igbo leader.
Several other presidential hopefuls had, in the past weeks made effort to see Ojukwu but failed to pull it off as the Ikemba was said to be away on a medical trip abroad.
Babangida was accompanied by former Senate President Ken Nnamani, his campaign coordinator, Raymond Dokpesi, former Minister of Health, Prof. ABC Nwosu former governorship aspirant in Anambra State and Obinna Uzor. Also at Ojukwu's home were Chief Austin Ndigwe and Hon. Ken Onoh. Although reporters were not allowed into the closed-door meeting, it was gathered that the visit was in connection with IBB's presidential ambition.
Although details of the discussion were not made public, Daily Sun gathered that after initial exchange of pleasantries, IBB, Ojukwu and his wife, Bianca, went into closed-door session.
However, feelers from the meeting said the former military president tried to convince Ojukwu that his dream of seeing an Igbo man become executive president of Nigeria in his lifetime was still feasible if he could come on board the IBB train, where it has been guaranteed that an Igbo son would take over after four years.
Although there were no details as to whether Ojukwu agreed to that proposal, the Ikemba Nnewi was said to have assured Babangida that the support which he (Ojukwu) had earlier thrown behind the ex-head of state was genuine. He said the support was based on the fact that he was not in doubt that IBB had the capacity to serve Nigeria well as civilian president.
Babangida, who spoke to newsmen at the airport, however, said he was on courtesy call to Ojukwu as his senior in the Military and an elder statesman. He said, 'It was just a courtesy visit. Don't forget that we were all together in the military and as a very senior officer, I owe him that respect. I respect him because he is also an elder statesman.'
Babangida also said he was in love with Ndigbo, stressing that it was the singular factor that had made him keep friendship with majority of them. He said he would continue to love the Igbo race, adding that his attraction to Igbo people was based on his track record while in office. He noted that the records would continue to speak for him in all his dealings.
Commenting on the large crowd that graced the declaration of President Goodluck Jonathan at the weekend, he said he was not perturbed, stressing, however, that he applauded them. He said he was working with Atiku Abubakar, Aliyu Gusau and Bukola Saraki to present a consensus candidate for the presidency from the north next year, stressing that the accord would materialize soon for the good of the country.