PEOPLE ARE JUST BOASTING, BORNO WILL REMAIN ANPP – HON. MOHAMMED ALI NDUME, MINORITY LEADER, HOUSE OF REPRESENTATIVES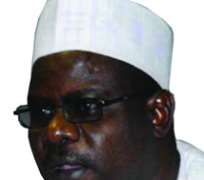 Your party in Borno is being accused of poor performance for the last 11 years and that it must be booted out.
I am sure those that hold that opinion are PDP people.
It is natural that opponents will say all those things. The PDP government has been holding the Federal Government for 11 years now and they have done nothing, except cause chaos in Nigeria.
In Borno State, you can see the presence and impact of government everywhere. You will see hospitals, they were built brand new by a government. The road networks you see were constructed by ANPP government. The details of what the government is doing could be unknown to me as I am not in government of Borno, but I will completely reject the insinuation that the government here is not doing anything.
Though I might not be able to list out those things the government of Borno had done, we can see things on the ground to appreciate that the government is working.
I really don't expect anything less from CPC and PDP, that is what they should say, or do you expect them to say the government of Borno is performing? If they say the government is performing, the people will ask them why they want to change the performing government.
If you compare the activities of Borno government to some other PDP states like Adamawa you will see that we are really trying in Borno. The only northern state I can say is performing in the PDP is Gombe. Borno is well ahead of so many PDP governments in the North. But it is said that the attitude of the government to the health of the people is poor and it was evidenced in the recent cholera outbreak
Let me be quick to say that incidence of cholera in Biu and in my local government is natural. What happened is that it is a basement area and there was a lot of rain. In places like that, people use pit latrine and when there is heavy rain and they have a shallow borehole, there could be contamination and that exactly is what happened.
But the community, the government and NGOs came around to arrest the situation. It can happen anywhere, and just because it happened in Borno did not make the government irresponsible. It can happen anywhere. The state government bought drugs for the people.
Your governor was accused of being dictatorial and also accused of siphoning funds
I would have wished you see His Excellency to answer those questions. But as a Muslim, as I have not seen any of those things and there is no evidence that he is doing those things. In the same breath I cannot say the government is clean because I have not seen the books. I am a member of the House of Representatives and I have no business looking into the account of the state government, that is not why I was sent to Abuja. I am in Abuja to defend the interest of my constituency, my party and my state. I can't talk on issues I don't have facts about.
Is it true that the ANPP in this state plans to replace Ali Sheriff with Mala Sheriff, his brother?
I will tell you that it is not correct for them to say that our governor plans to impose his brother. I don't even know how he will do that. The Electoral Act is clear on how to go picking a candidate; we have 27 local governments and there are key stakeholders in the party, so I don't know why people are saying that.
Anyone that is qualified will be the one that the party will go for. I don't think the governor can singlehandedly foist someone on the party. I don't think he will do that. He himself was not imposed, he was nominated and elected.
Again, the new Electoral Act does not even allow imposition. The new Electoral Act emphasizes the need for internal democracy. You only have two options; one is direct primaries, where all card carrying members of the party would participate.
If you decide on indirect system it has to be at the local government too.
Then again, the election has been staggered in such a way that it is dangerous to field an unacceptable candidate. We will start with National Assembly, then the Presidency and then the states.
The governor's brother has the right to contest, but I don't think the governor will want to go out of his way to impose on the party.
Is it true that the governor does not like you because you are too outspoken?
People say that, but I have not seen it.