Petition by West Africa Media Network for MDGs to ECOWAS Heads-of-States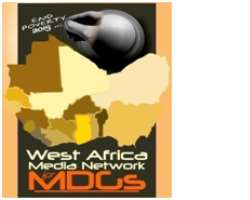 We, the members of the West Africa Media Network for MDGs believe that the Millennium Development Goals (MDGs) are the least economic indicators to tackling poverty in its various dimensions – income poverty, disease, lack of adequate shelter, and exclusion - while promoting gender equality, environmental sustainability and education;
We acknowledge and commend Heads-of-States for their commitments towards economic growth, sustainable development, peace and the MDGs in their respective countries;
However, we are concerned with the steady growth rate of between four per cent and five per cent which falls short of the target of the eight per cent and nine per cent expected to reduce extreme hunger by 2015. We are also worried with the low progress in the areas of maternal and child health, gender equality and sanitation in most countries;
Realizing the enormous natural resources that West African countries are endowed with and agreeing with the content of the Africa Wide Petition released by the partners of the United Nations Millennium Campaign (UNMC) in July, we demand;
That ECOWAS Heads-of-States rededicate themselves and work towards the consolidation of peace, security and respect for human rights in the sub-region through a democratic governance systems which are capacitated, accountable, fair and transparent to all;
That political leadership should develop and prudently manage the abounding natural resources available in the region to the benefit of all in a transparent manner. In this regard, 20% per cent of all revenues should be invested into productive sectors of the economy such as health, agriculture and education with a national strategy to deal with the resource curse that has afflicted countries like Sierra Leone and Nigeria;
That ECOWAS governments should design, implement and monitor programmes and policies that will create decent jobs for all, especially young people, women and persons with disability in the region's natural resources sector such as gold, oil and gas;
That Heads-of-States make their national budgets MDGs compliance by allocating more resources to health, agriculture, education, sanitation, governance with special attention to marginalized groups such as women, children and disabled; and also deal with resource leakages at all levels;
That maternal and child mortality should be seen as a national emergency with a corresponding efforts by government, development partners and community leaders to provide adequate health facilities and professionals. Governments should fulfill their continental commitment of allocating 15% of their annual budget to health; 40% of this allocation should go into the provision of health facilities;
That a consultative and participatory policy is developed to address the regions sanitation and climate change needs with a human-focus on rebuilding slums for sustainable development.
That Head-of-States commit themselves to regional trading and reduce the level of importation from Europe and America, and avoid trade systems and agreements such as the current Economic Partnership Agreement (EPAs) with the European Union;
That ECOWAS Heads-of-States should decisively use the UN Review Summit in September as a platform to rededicate their commitments to pursuing the achievements of the goals with all their resources and also develop an all-inclusive 5 year Breakthrough Action Plan in consultation with Civil Society Organisations (CSOs), Faith Based Organisations (FBOs), Traditional Authorities (TA) and other stakeholders;
In the light of this, we add our voice to the call by the United Nations Secretary General for "Keeping the Promise" of significantly reducing poverty, hunger, unemployment and underemployment, of addressing lack of access to education, health care and social protection, and of reversing environmental degradation by 2015.
The network is a group of journalists in West Africa who have committed themselves to promoting the livelihoods of the poor and marginalized groups especially women, children and the disable for the accelerated achievements of the MDGs.

Please contact [email protected] if you have any enquiries