ON GOODLUCK JONATHAN'S LARGER THAN LIFE PROMISE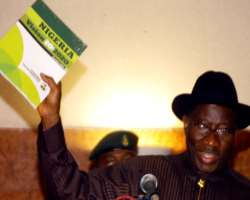 PHOTO: PRESIDENT GOODLUCK JONATHAN.

Commentators can be right on the point. One showed his stuff in the days after the 2000 Sydney Olympics. His comment was in reaction to what Marion Jones said. Five gold medals the American athlete had promised to haul. She won three in the end. Jones would be remembered, the commentator had pointed out, not as a female Olympian who won gold medals, but as a champion who promised more but delivered less. One of the finest female athletes of all times had put her mouth where she shouldn't on that occasion.
"I know you are tired of empty promises, so I will make only one promise to you
today. The only promise I make to you my friends, fellow citizens and Nigeria,
is to promise LESS and deliver MORE if I am elected." That is President Goodluck Jonathan commenting on his Facebook page. There is this thing about making promises when a man promises little, his listener may ignore him. And when he promises too much, people may not believe him. Some people's jobs require that they make promises, however, and big ones too. Marketers or salesmen are in this category. A subordinate who wants to please his superior is another and he is always ready with perfect excuses when things don't work out; a thing his superior can overlook in the workplace, but is awkward when clients are involved. Even at that, no one expects clients to flock to lawyers who talk down chances of success in a court case. And definitely surgeons have to blow it up when their patient's chances of survival in the theatre is the issue. Trust them to promise pain-free recovery which patients hardly get. And of course no employer paid to do a job gets high commendations for doing what he is expected to do, but because he exceeds expectations, and possibly brings higher returns to the organization.
One politician spoke on this LESS and MORE issue not long ago. He is Michael Howard. He had once been Britain's Conservative Party leader. "My approach is a simple one: Promise less, deliver more," was his first public statement in that capacity. The same view was the pillar behind his success when he was a businessman. He also reflected it in his years in politics. Many Nigerians know businessmen who are the opposite of Howard. They know politicians here too who come in the same mould. And there is their nation, Nigeria that holds so much promise, but has delivered less than it promised fifty years ago.
And here is a Nigerian politician, Goodluck Jonathan, who has brought to the fore again the paradox of either making too much promise, or making no promise. "My team and I made no promises on adequate fuel supply in Nigeria. We simply did what was expected of those who govern, we delivered it. We made no promise to give Nigeria a brand new INEC under a proven God-fearing and incorruptible leader. We placed Nigeria first and delivered," the president had written on facebook; a thing that is in itself has the touch of a strategist, as he used it to prepare ground for his formal declaration to contest for the presidency on September 18, 2010. The president has a point in his statement, but he has also, in promising not to promise more, promised much. He has set a task for himself, which even in the final months of this term of his administration, Nigerians will continue to watch with interest. For here is a nation with huge potentials in all things but which bad leadership has crippled. Here is a fifty year old nation, one for which British colonial masters planned 10, 000 megawatts of electricity in the 1950s but, today, hardly generates 3,000 megawatts for its uses. This is a Nigeria where democracy should have grown so much wings over the years but politician openly subvert the will of the people. This a country where lawmakers break the law, paying themselves wages the law does not permit, and concerned authorities look on without lifting a finger. The system has gone down the road so much that some citizens think a revolution is the solution rather than reform which they feel will be merely cosmetic.
It is under such a scenario that the president's promise to promise less but deliver more may have pointed in the opposite direction. Sure, many Nigerians will like it when he says he will lay emphasis of delivery, rather than big promises. But he has inadvertently promised to take on much more than anyone hope he can handle; and that in the face of how far down the road the country has gone in terms of corruption in high places, lack of institutional or structural capacity to deliver even the most basic of services to the citizens, as well as lack of adequately empowered human resources to deliver through the available institutions. And if anyone thinks the president has the support of other politicians who man political structures down the line in his promise to deliver more than he promises, then he has not considered the naked power often put on display by state governors and even local council heads under them. The president's promise to promise less but deliver more, may not do much to make his citizens hope, rather it may have achieved the purpose of making them wonder if, in the face of what is on ground, he can actually deliver in case he emerges as the president come January 2011.
But there is this pattern to the style of the Goodluck in Aso Rock. Reputedly, calm and unobtrusive, even critics doff their caps. And that is because they say he is a politician. There is a way to the style of a good politician. One politician from the South West of the country who promised too much in his 1979 presidential bid got concerned politicians and even the military running for cover. Goodluck Jonathan kept his silence since 1999 and arrived at the top. He did the same as he watched his foot soldiers strategize and build up the steps, in the last four months since he assumed the leadership of the country, that culminate in his present declaration to contest for the presidency. From his own party to INEC, to the security services, the wooing of candidates he needs to get his party's ticket, observers say the president has shown himself a man who does careful political calculations. Bringing all of that into governance, and use it to get past every roadblock, may prove useful in his days in power. It will be part of what he needs in order to deliver the promise he made which, as it is, is large than life.
Ajibade, a Consultant Writer, lives in Abuja is at [email protected]
Disclaimer:

"The views/contents expressed in this article are the sole responsibility of the author(s) and do not necessarily reflect those of The Nigerian Voice. The Nigerian Voice will not be responsible or liable for any inaccurate or incorrect statements contained in this article."
Articles by thewillnigeria.com