2011: I wont bother myself with the integrity of politicians who sponsor my campaign says Ribadu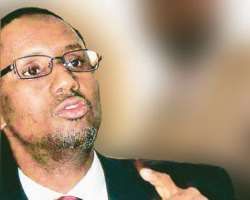 Nuhu Ribadu
Ex boss of the Economic and Financial Crime Commission (EFCC), Nuhu Ribadu has said he would not lose sleep if a politician he indicted as anti-graft czar, sponsors his campaign.
In 2006, while briefing the senate of the activities of the EFCC, Ribadu described Ex Lagos Governor, Bola Tinubu ' as a looter of international dimensions", but on Thursday in Abuja justified his alliance with Tinubu, and why it is okay for him (Tinubu) to sponsor his (Ribadu) campaign for President. EFCC spokesman, Femi Babafemi on Friday said the commission has not cleared Tinubu, and his Ex Akwa Ibom counterpart, Victor Attah.
Pointblanknews.com learnt that at his briefing with select media chiefs in Abuja on Thursday, Ribadu said he would not bother himself with the integrity of politicians who elect to sponsor his campaign.
When asked at the Wuse , Abuja briefing to justify his alliance with Tinubu who has been accused by his EFCC of laundering about N20 Billion of state's cash, Ribadu said " I won't bother myself with the integrity of politicians that will sponsor my campaign as long as they won't keep their stolen money in my pocket"
One curious aspect of the briefing, pointblanknews.com learnt was that Ribadu insisted that his response concerning Tinubu who was present , should not be reported .At that very media parley held bankrolled by Tinubu and held at a club house opposite Penniel Apartments in Wuse, Ribadu claimed he never handled any case involving Mrs. Patience Jonathan, which contradicts the records of the EFCC.
At that senate hearing in 2006, Ribadu had said "Abia is number one (of corrupt state) not because it is number one alphabetically, but because we have one of the biggest established cases of stealing, money laundering, diversion of fund against Governor Kalu. The governor used his mother, daughter, wife and brother to divert N35billion to build his business empire including Slok Airlines, Slok Pharmaceuticals and newspaper house…Governor Bola Ahmed Tinubu corruption is of international dimension.There is s also a petition against the Governor of Bayelsa's wife. She was involved in laundering the sum of one hundred and four million into foreign account. She is also being investigated."
" But this week, Ribadu denied he ever handled any case against Mrs Jonathan. He said "I never handled any case against Mrs. Patience Jonathan. It was a case involving one lady who was reported by a bank, there was lodgment of about N70 million, and while we were investigating it we discovered that she did a contract in Bayelsa"
Ribadu who today blames Mrs Jonathan's travails on detractors had in 2006, through the commission's counsel, Ofem Uket alleged that Mrs Jonathan, had case to answer.
In the suit number FHC/ABJ/M/340/06, EFCC named Mrs Jonathan, then Bayelsa state first lady as an accomplice. EFCC had said " our investigation revealed that Mrs Patience Jonathan, wife of Bayelsa State Governor,, was the person who instructed one Hanner Offor to launder the said sum of N104 million into the account of Nansolyan Public Relations Ltd with First Bank in Lagos"
 

Reader's Comments